If personalized attention is what you are looking for then join our Registered Maine Guides for a private moose tour and wildlife safari. Our Maine moose watching tours are a great way to spend a morning or evening during your vacation to Moosehead Lake, Maine. Whether your Maine moose watching tour is your chance to get away with that special someone, your family, children or close friends, the exclusiveness of our private moose safari tours creates an experience that you will never forget. Whether you enjoy wildlife photography, painting, sketch work or the solitude of the woods, private moose safaris are a unique way for our Guides to take you to the best places to see moose and other wildlife. Our private Maine moose safaris are customized for you. We offer private moose watching van tours, in addition to private canoe moose safari tours to remote and pristine ponds in the North Maine Woods. Experience the beauty, sounds, and scenery of the Moosehead Lake Area with Northeast Whitewater Maine Moose Watching Tours. Call 1-207-695-0151 to make your private moose safari reservation.
---
Private Maine Moose Watching Tour & Wildlife Safari by Van
---
Private Maine Moose Watching Tour & Wildlife Safari by Canoe
---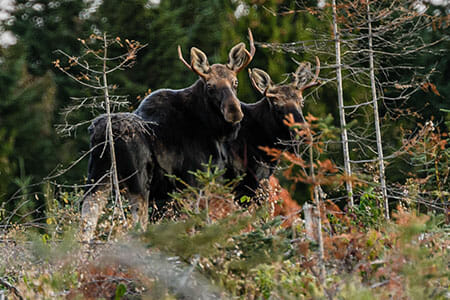 Maine Moose Watching Tours FAQ's
All equipment provided. Lifejackets, paddles, boats, transportation, Registered Maine Guides, snack and drinks.
Children under 10 years of age are only $39.00 (must be accompanied by an adult; maximum number of 2 children at the $39.00 discounted rate).
Maine moose watching tours evening trips meet at 4:00 pm (May 1 – May 17) 5:00 pm (May 18 – August 9), 4:00 pm (August 10 – September 9) and 3:00 pm beginning Sept. 10
Maine moose watching tours morning trips meet at 6:00 am (May 1 – October 13)
Private moose safaris are available from Early May – Mid October.
Maine moose watching tours are 3 1/2 to 4 hours long

Please note that the 3 1/2 to 4 hours includes the ride to and from the pond for the canoeing portion. Approximately 1 1/2 hours is spent on the pond due to the remote location.
Don't forget to check out and follow along with our moose sightings on our Facebook page!