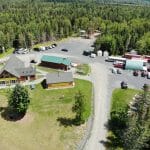 Northeast Whitewater invites you to see what we love about Maine. The unspoiled wilderness of the Maine woods and wildlife that live here, the vast expanse of mountain views and the scenic, wild whitewater rivers that are our ebb and flow; this is our rhythm, our progress. The Moosehead Lake area is the heart of what we love most about Maine. We welcome you to experience this amazing place with Northeast Whitewater and learn more about our exceptional guide team. This is our journey as a Maine outdoor business.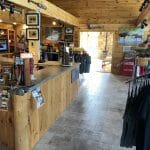 Northeast Whitewater is a small, locally owned whitewater rafting adventure company and guide service, located in the beautiful and pristine Moosehead Lake Region of Maine.  Stay with us in our campground and yurts, peruse our gift shop stocked with moose gifts, apparel and an assortment of "camp stuff".  Northeast Whitewater provides quality, personalized trips in the Maine outdoors and while bringing value to the product, through exceptional service and relationship building.  Northeast Whitewater hopes to exceed your expectations!
Follow our Northeast Whitewater Blog for stories and information about us!
History
Our first year in business was in 2007, not the best economic times for these these go-getters to get underway, but what time is ever the "right" time? We rented a small outpost at Historic Pittston Farm in the North Maine Woods, at the confluence of the North and South Branches of the Penobscot River and West end of Seboomook Lake. We offered whitewater rafting trips on Canada Falls and the Seboomook section of the Penobscot river, outdoor instruction clinics on different sections of whitewater around Maine and Registered Maine Guide courses. We loved that first summer at Pittston Farm, but with gas prices over $5 a gallon at Historic Pittston Farm that summer, the rough road for guests to get to our remote basecamp was a challenge, and in order to keep our momentum going, the only alternative was to move to an area with paved roads and a population greater than 8.
Enter Moosehead Lake. Many think of The Forks when they think of Whitewater Rafting in Maine, but one of the first Maine rafting companies actually originated in Greenville Maine; Eastern Rivers. It's more likely than you think, when you consider Greenville's location at the southern tip of Moosehead Lake. The headwaters of the Kennebec river is Moosehead Lake and we are less than 50 miles to the West Branch of the Penobscot River. We were able to acquire a rental agreement for a portion of the old W.L. Bartley building, which had previously been the local One Stop. Our small base in the old garage out back, was a reasonable next step for our business. Each morning before our guests arrived, we would pull up the garage door, sweep out the concrete floor and welcome people for their day's adventures. Music and rafting video's played in the background, guests would get their daily required gear from our raft guides at the "shed" beside the base, load up on the bus and head out for a day of rafting fun! After 2 years at the W.L. Bartley location in Center Cove on Moosehead, we had outgrown our garage space. Ideally, it would have been nice to relocate to the front "store room" of the old gas station, but that opportunity was not available to us, so we started considering other local options.
Enter McDonalds, sort of. McDonalds corporation had absolutely nothing to do with our move, but the old McDonalds building had everything to do with it! Sometimes timing is just right and in our case the fall of 2010 we were asking around town about properties that would be suitable for our rafting and moose tour company. Ironically, the lease on the old McDonalds business, located at the top of Indian Hill, would be opening up January 1, 2011, even though the building had not been occupied by McDonalds since 1998 (the end of McGreenville). With renovations to the space to make it less of an open kitchen restaurant and more of a lodge feel, we put up pine walls, colorful pictures, raft and moose memorabilia, music and videos on the big screen Tv's and the guest check-in area was ready. Behind the scenes, we built office space, customized our commercial kitchen for our raft trip meals, added on a gear room, and since our first year "on the hill" added guest changing rooms, storage shed and raft equipment barn. The revolution of changing the locals minds about the old McDonald's building not being McDonald's anymore was a challenge the entire time we operated Northeast Whitewater there, but we loved to say, it's not McDonald's anymore – it's Northeast Whitewater!
In a day in age were people want simplicity with vacation plans and love the concept of vacation packages, we were not able to be competitive with the large rafting companies because we did not have the capability to lodge our own guests. Enter Indian Hill Motel.
In the early 1960's, Bill and Callie Muzzy started the first Moosehead Lake area motel, Indian Hill Motel. It remained in the family until leased in the 90's and 2000's by the owner's of Chalet Moosehead Lakefront Motel. In December of 2011, the Indian Hill Motel, located across the road from Northeast Whitewater, was undergoing some changes of its own. Chalet Moosehead Lakefront Motel owners were ready to run their one business and turned the Indian Hill Motel back over to the Muzzy family. Northeast Whitewater was asked if we wanted to run the motel and we assumed management responsibility of that business beginning in January of 2012.
Northeast Whitewater continues to evolve in this ever changing and dynamic business climate. We purchased allocations from the State of Maine to grow our business and have the ability to raft on both the Kennebec and Penobscot rivers on Saturdays in July and August. Allocations are spots owned by the state of Maine that are sold at auction to the highest bidder. The only way that allocations become available is if a company sells their business and the allocations revert back to the State of Maine or if the rafting company does not raft a percentage of their allocations, the allocations can also revert back to the State and be resold. By having the ability to raft on all Maine's rivers 7 days a week, has been a very positive step for Northeast Whitewater.
After renting buildings to house our rafting company and guide service, we were fortunate enough to purchase our own property at the end of 2015 and start our 2016 whitewater rafting season in our new base lodge at Moosehead Lake. Our new lodge portrays the Maine woods appearance and is a lovely place to welcome guests for our guided services and whitewater rafting trips. Since Northeast Whitewater is the only adventure concierge at Moosehead Lake we continue to partner with Balsam Woods Campground, Chalet Moosehead Lakefront Motel, and Moosehead Hills Cabins for our guests camping, motel, cabin needs and now our yurts and campground.
We are working hard to make connections with people in our community and beyond, in order to offer our outdoor adventures, grow our business and through value of the service we provide, exceed our guest's expectations. We are 100% devoted to customer service, building relationships and making memories, so that our guests want to return to our business because when they think of Maine outdoor adventures, Maine wildlife and whitewater rafting in Maine, they think about how we made their experience so special.
There is so much to offer our guests when they visit the Moosehead Lake Region, but we also want our guests to experience all that Maine has to offer. We are the closest Maine whitewater rafting company and moose tour guide service to Acadia National Park and Bar Harbor, Maine, where vacationers flock in the summertime to eat lobster, whale watch, shop and explore Maine's rocky coast. Baxter State Park and Maine's largest mountain, beautiful and forever-wild Mt. Katahdin, are only 50 miles north of Moosehead Lake location.
Northeast Whitewater is excited about where we have come from, what we're doing now, and how we see ourselves in the future. What's neat about this journey is that our guests, staff and community have played a role in the process. We're thankful that we were ambitious enough to start the journey and are looking forward to where the river will lead us. We hope you will join us at Northeast Whitewater Lodge & Guide Service. The journey is the reward.
Your hosts,
Northeast Whitewater Team!
Check out other great sites that help Northeast Whitewater maintain our web presence.