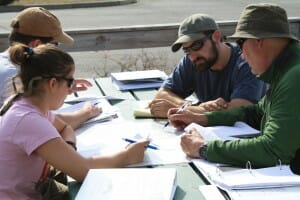 Have you ever dreamed of becoming a Registered Maine Guide? After graduating from our Maine Guide School and training program, you can sit for the State of Maine Registered Maine Guide test. Our Recreation Maine Guide School is hands down the best training courses in the State of Maine. Take your Registered Maine Guide Course with a company that runs daily trips and knows the industry like no other. A Recreational Maine Guide License allows you to lead non-hunting, non-fishing outdoor trips, which include hiking, biking, skiing, canoeing, kayaking, snowmobiling, ATV, and other day and overnight trips in the State of Maine. Learn and perfect all you need to know to successfully pass the State-administered test, including map & compass, lost person, watercraft laws, trip planning, safety, risk management, camping, outdoor cooking, rules and regulations, and canoeing skills, the business side of guiding, and much more.
This is a guide preparatory course to prepare candidates to take the State of Maine oral and written boards and is not a substitute for hands on experience. Sign-up for our Registered Maine Guide Course and Maine guide school today! This course provides the required tools to take the State of Maine administered written test and oral boards but, of course, cannot guarantee passing. Testing and license fee are NOT included. Employment opportunities may be available at Northeast Whitewater Lodge & Guide Service after successful completion; lead canoe trips, overnight camping trips, wildlife and moose tours, hikes and more!
In order to sign up for Northeast Whitewater Recreation Registered Maine Guide School Book Now.
Information is listed below on the steps to become a Registered Maine Guide. These steps are not required prior to taking this course.
Northeast Whitewater Application Form if interested in employment.
Current CPR and First Aid certifications are required for your test. Consider signing up for one of our Wilderness First Aid & CPR Courses
Please pack a bag lunch for all days.
Package pricing for anyone enrolling in both Wilderness First Aid & CPR and our Maine Recreation Guide Course – Save 10% OFF the 2 courses!
Additional Maine Guide Training is $60/hour for one on one prior to test taking.