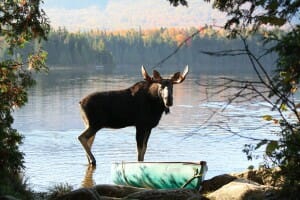 As close to a celebrity as a wild animal can get, the Maine moose is as elusive and camera-shy as any Hollywood star. To see a Maine moose in its native environment and to take the Maine moose photos to prove it, you need experienced Northeast Whitewater registered Maine guides. Sign on for one of Northeast Whitewater's popular Maine Moose Tours, Maine Moose Safaris or Maine Wildlife Photography Tours, and go moose watching on our land tours by van or by canoe. We know all the best ways to get you close enough to a Maine moose to get a great Maine moose photo, and make a great memory.
Maine Moose Tours – Moose Canoe Tours
Come join us to go on a Maine moose watching tour by canoe! Our Registered Maine Guides drive you from the Moosehead Lake Region to remote Maine woods ponds and shallow bodies of water where moose and other wildlife feed. Did you know that Maine moose in the North Maine Woods outnumber people from 3 to 1? Our Maine Moose tours and wildlife safaris by canoe are 3.5 to 4 hours. All trips depart from Northeast Whitewater with our knowledgeable and entertaining guides to remote Maine woods ponds in the North Maine Woods where you will experience canoeing in a peaceful, pristine setting. Moose feed in the shallow ponds, so our Maine moose canoe tours take you to remote spots where guests have the best opportunity to get close to moose and other wildlife on our moose tours by canoe. Capture amazing moose pictures, hear moose slurping and chomping the pond weeds, all the while getting up close and personal to the elusive Maine moose on our Maine moose canoe tours.
When you choose our evening moose watching tour, most evening moose canoe tours end with a spectacular sunset overlooking Moosehead Lake. Or enjoy the serenity and beauty of the Moosehead Lake area before most visitors awake. See the sunrise as you depart to the Maine woods ponds for a leisurely canoe paddle on our morning moose canoe tours.
Maine Moose Watching Tour & Wildlife Canoe Tour
---
Maine Moose Watching Tours – Land Tours by Van
Our moose watching tours and wildlife safari land tours by van offer a scenic riding tour to remote areas of the North Woods where guests are in and out of the vehicle at designated moose hideaways. Our moose watching and Maine wildlife van tours are the best land based tour to cover the most terrain, which inevitably increases guests moose sightings. Our Maine Moose Watching land tours by van provide a peaceful experience in nature, on rugged Maine woods roads. Our guide's take you to remote spots in the North Maine woods to see moose in wooded clear cuts -back roads too deep to drive your own car- at the early hours of the morning or the evening hours while moose are moving from bogs and wood lots to feed. Be there to watch our famous Maine moose stretch their legs and forage in the Maine woods. Maine moose are twig eaters and known as vegetarians -did you know a full grown moose eats 50 pounds of vegetation in a day?
Learn local knowledge from our Maine Guide's, ask questions about the area, and see moose in their natural Maine woods setting. Maine moose watching tours and wildlife safaris are a great way for you to make lasting memories with families and friends, and an exciting way to make new friends in beautiful and scenic northern Maine.
Maine Moose Watching Tour & Wildlife Land Tour By Van Pricing
---
Maine Moose Watching Tours FAQ's
All equipment provided. Lifejackets, paddles, boats, transportation, Registered Maine Guides, snack and drinks.
Children under 10 years of age are only $39.00 (must be accompanied by an adult; maximum number of 2 children at the $39.00 discount rate).
Maine moose watching group tours evening trips meet at 4:00 pm (May 1 – May 17) 5:00 pm (May 18 – August 9), 4:00 pm (August 10 – September 9) and 3:00 pm beginning Sept. 10
Maine moose watching morning trips meet at 6:00 am (May 1 – October 13)
Private moose safaris are available from Early May – Mid October.
Maine moose watching tours are 3 1/2 to 4 hours long

Please note that the 3 1/2 to 4 hours includes the ride to and from the pond for the canoeing portion. Approximately 1 1/2 hours is spent on the pond due to the remote location.
Please plan ahead. We only take a limited number of people per day on our wildlife and moose watching tours by van and or canoe. Last minute reservations are not always available, so Book Now. Call or email Northeast Whitewater Maine Moose Watching tours to set up your Maine moose tour or safari today: