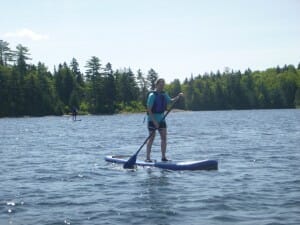 Stand Up Paddleboarding tours are a unique way to experience the inland waterways, scenic wildlife ponds and the ecology of a natural environment with our Registered Maine Guides. Beginner and veteran paddleboarding enthusiasts can choose from a leisurely flatwater paddleboarding trip or more adventurous way to spice up the calm sections on our river trips. The stability of our Stand Up Paddleboards and maneuverability for ease of enjoyment on the water is really what makes Stand Up Paddleboarding ideal for anyone to enjoy. Northeast Whitewater's Paddleboards are big, wide and stable inflatable boards at 10+ feet long and 3 feet wide, which is optimal for all experience levels to enjoy paddleboarding in Maine with us!
In addition to the wonderfully scenic and remote wilderness experience, you will enjoy when Stand Up Paddleboarding with us, we are the only whitewater rafting company in Maine to offer Stand Up Paddleboarding for a fun additional watercraft to use for the calm sections of the river. Check out all the ways you can Stand Up Paddleboard with Northeast Whitewater at Moosehead Lake this season!
Paddleboard Nature Tour
Explore with our Registered Maine guides area ponds on this leisurely nature tour by Stand Up Paddleboard to see native bird sanctuaries, flora and fauna with the chance to see a moose during this leisurely Stand Up Paddleboard tour in the Moosehead Lake area. Our pristine and relaxing Stand Up Paddleboard tours take you to areas that are easy to access, but away from the action of larger lakes and pond, for a relaxing paddleboard tour that is ideal for all ages to enjoy!
Tour Length: 3 hours; based on availability with tour times at 10 AM and 1 PM. Private sessions available upon request.
Skill Level: Beginner • Intermediate • Advanced – great activity for everyone!
Pricing
---
Paddleboard Fitness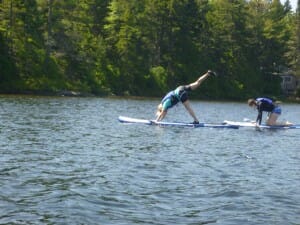 Join us weekly for our Paddleboard Fitness segment to reconnect your mind, body and spirit with nature through on water stretching and wellness. Whether you are a beginner to Stand Up Paddleboarding and new to the connection of fitness with paddleboarding, our guides will adapt the stretches and practice to help you connect to your surroundings and the changing environment of the water. The goal of our Stand Up Paddleboard Fitness class is intended to connect you to the flow of energy within your body, like the flow of water beneath you. Find balance and flexibility, breathe fresh air, and connect with the sound of the water around you.
Fitness Class Length: 2 Hours
Skill Level: Beginner
River Time – Stand Up Paddleboarding
You can now add a Stand Up Paddleboard to your calm water river trip after tackling the big whitewater rapids when rafting with us on the Kennebec River. This will add a unique, adventurous perspective to your river day and is ideal for active folks, seeking an aerobic, full body workout after enjoying paddling in our whitewater rafts. Northeast Whitewater is the only Maine rafting company to offer our guests the ability to Stand Up Paddleboard on the calm sections of river when you schedule a whitewater rafting trip with us. So the next time you're rafting with Northeast Whitewater, add a Stand Up Paddleboard to the calm river sections and give stand up paddleboarding a try.
Skill level: Intermediate • Advanced – 14 and older!
Get Started
---
FAQs
Stand Up Paddleboarding Tours are offered weekly throughout the summer or call to inquire about a private tour!
All equipment, transportation, and Registered Maine Guide on every Stand Up Paddleboard Tour and Fitness Class. Dress to get wet: we like synthetic clothing and bathing suits.
Wetsuits are available for a rental fee.
Please arrive 15 minutes prior to tour time.
Minimum age is 14 years old for River Paddleboarding & Fitness Paddleboarding or schedule a private tour.
Private SUP tours are $279 for 2; $29 per additional guest.
Minimum 5 participants on Nature Paddleboard Tour & Fitness Paddleboarding or join an existing tour. Private Stand Up Paddleboard Nature Tours and Fitness Classes are available upon request and first come, first served.
We pride ourselves on small, personalized tours and classes.