Northeast Whitewater Kayak School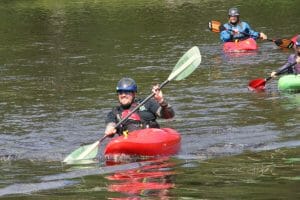 Our whitewater kayak instructors help you become proficient in whitewater kayaking so that you can enjoy the whitewater rivers on your own, safely in our Northeast Whitewater Maine Whitewater Kayak Instruction. We offer courses at basic, intermediate, and advanced levels in the Moosehead Lake area of Maine. Learning how to whitewater kayak is an activity for all to participate in. Whether you are an adult interested in adding a lifelong outdoor activity to enjoy or youth eager to gain whitewater kayaking skills for a lifetime of enjoyment, we have you covered.
The "Basics" Whitewater Kayak Instruction
Learn whitewater kayaking fundamentals, strokes, techniques, and safety in our basic whitewater kayaking instruction clinic. Whitewater kayaking is a sport for enjoyment, exercise and can be enjoyed with friends and family for a lifetime of paddling! Our whitewater kayak instructors help you outfit the white water kayak that fits you best for maximum comfort and performance. You will progress from flat-water instruction to class II whitewater river running and learn your eskimo roll. You can call to enroll 207-695-0151 or Book Now.
---
The" Next Steps" Whitewater Kayak Instruction
Ready to advance your kayaking skills in our next step whitewater kayak instruction clinics? A whitewater kayak is the extension of your body and with our next step whitewater kayak instruction, you will gain control, refine your basic kayak skills, advance in maneuverability with eddy turns, peel outs, ferries and more! You will gain the confidence needed to whitewater kayak class II-III rivers, and use your eskimo roll when needed in whitewater current. Our whitewater kayak instruction clinic helps you refine your whitewater boating technique to become a confident class II-III whitewater kayaker.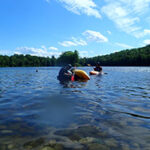 Pricing
2-day Level II Instruction
TBD
$299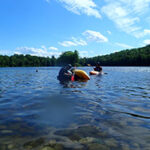 Pricing
2-day Level II Instruction
TBD
$299
---
The "Essentials" Private Whitewater Kayak Instruction
Our private whitewater kayak instruction clinics are ideal for anyone who is interested in customized one on one kayak instruction. Private kayak instruction is centered on you and your skill level. There is no better way to improve your paddling skills than private whitewater instruction with our knowledgeable and friendly whitewater kayak instructors. Our Private kayak course is custom tailored for youth groups, summer camps, and individuals eager to learn the basics of kayaking, advance in skill level and simply have fun!
---
FAQs
All equipment provided. State-of-the-art whitewater kayaks, lifejackets, paddles, helmets, skirts, all safety equipment, transportation and a Registered Maine Guide on every trip, and our shore lunch are all included.
Ages 14 and over welcome in our ACA instructional clinics. A parent or guardian must accompany anyone under the age of 18.
Minimum 6 participants in all instructional clinics or join an existing class.
Wetsuits are available at an additional cost and required on some trips.
Video and photos are available on any trip at an additional cost and must be requested in advance.
We pride ourselves on small personalized trips and clinics.