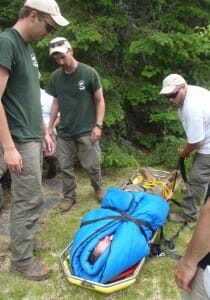 This Wilderness First Aid CPR Instruction 16-hour class is ideal for anyone in a recreational or occupational environment an hour or more from EMS response. Based on the Boy Scouts of America Wilderness First Aid Curriculum and Doctrine Guidelines with enhanced content to meet OSHA's Best Practices for Workplace First Aid Programs. Offers flexibility for organizations and their instructors to adapt the training to varying environments, from camps and parks to remote occupational settings. Reviewed and/or supported by the American Camp Association, American Canoe Association, National Recreation and Park Association and JCC Association. To enhance the "real-life" experience of class takers, major portions of the training are designed to be taught in an outdoor setting.
Topics Covered Include:
Primary and Secondary Assessments
Head (Brain), Neck and Spinal Injuries
Heat-Related Emergencies
Wounds and Wound Infection
Allergies and Anaphylaxis
Altitude-Related Illnesses
Bone and Joint Injuries
Hypothermia
Burns of all degrees
And more
Wilderness First Aid & CPR Program Pricing
Adult CPR / AED is included with all Wilderness First Aid Courses. Contact Northeast Whitewater at:
Are you a whitewater rafting guide? You've got to take our ACA L4 Swiftwater Rescue Training.
This is trip leader training for whitewater enthusiasts, boaters and guides!
All American Red Cross Wilderness First Aid & CPR courses are for ages 14 and older.
We pride ourselves on small personalized courses.
You must sign up for all scheduled programs in advance.
All equipment, handouts, manikins, and manuals included.
Please pack a bag lunch for both days.
The majority of this course is held outdoors. Dress accordingly.
Sign up quick! We take a limited number of participants for our American Red Cross Wilderness First Aid & CPR courses.