As Maine moose watching tour guides our passion is Maine's wildlife and Maine wildlife photography at Moosehead Lake. We are fortunate to spend each day in Maine's Moosehead Lake area observing habitat of moose, deer, loons, eagles, waterfowl and various forms of Maine wildlife in their natural setting, our beloved North Maine Woods. Our registered Maine guides recognize that wildlife photography requires strong field skills, that is why we take our wildlife photographers to the best areas based on the goals of the wildlife photography the photographer is looking to get out of the experience in Maine with us.
Photography is one of the many ways you can get outside and enjoy wildlife spring, summer and fall in Maine. Spring in the Moosehead Lake area is a time when life again blooms after its long winter sleep. Both wildlife and wildflowers come alive in Maine's North Woods. Maine wildlife are stretching their legs after the long Maine winter and our guides take you into the natural habitat to see the first born of the spring season.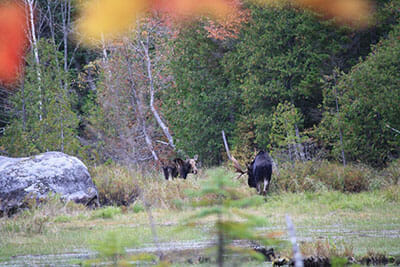 During Maine's peak summer season wildlife find respite from the day's heat in shallow bogs, ponds and shade of Maine's boreal forest. Seek out moose and loons with our registered Maine guides for optimal on water wildlife photography during summer in Maine. Black bear are elusive in Maine and known by wildlife photographers as Maine's ghost of the woods, but with patience and an experienced Maine guide seeing a Maine black bear is possible.
The most sought after time of year for wildlife photography in Maine's Moosehead Lake area is when summer fades into autumn and the fall foliage transforms the North Maine Woods into spectacular shades of yellow, orange and red. Needless to say, autumn in Maine creates a splendid colorful backdrop for wildlife photography. This also is the time of year that photographers seek out our registered Maine guides to find the bull moose of the Maine woods. Since vegetation growth on ponds has come to a halt, bull moose are more prevalent in remote woods spots and along rough Maine woods roads. The color of the woods creates a beautiful backdrop for wildlife photography.
The Maine North Woods is home to Maine's moose, but also Great Horned Owls, Pileated Woodpeckers, Wood Ducks, Hawks, Turkey Vultures, Turtles, Squirrels, Chipmunks, White Tailed Deer, Mink, Fisher, Wild Turkeys, Cardinals, Bald Eagles, many Warblers, Bohemian Waxwings and more! Join Northeast Whitewater Maine Moose Watching for wildlife photography this season.
---
---
Call or email Northeast Whitewater Maine Moose Watching tours to set up your Maine wildlife photography safari today:
Don't forget to check out and follow along with our moose sightings on our Facebook page!