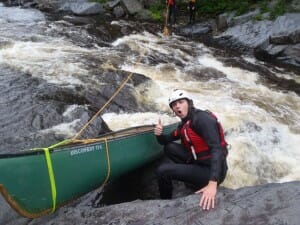 When you choose Northeast Whitewater programs, you are choosing Maine's leader in outdoor instruction. Experience matters and Northeast Whitewater has over 20 years of experience training Maine's river guides in our whitewater raft guide training, swiftwater rescue programs and wilderness first aid. Whether you are seeking an outdoor job or looking to gain skills for your own personal fulfillment through Boy Scout Merit Badge, Maine Guide Training or a Summer Camp Experience, Northeast Whitewater outdoor instruction programs are lead by the best instructors, focused on providing a learning environment where students can grow professionally and achieve their own personal goals and outdoor pursuits. The knowledge and skills you will learn by participating in our outdoor instruction programs are taught by our very own Registered Maine Guides and Program Instructors.
Whether you choose to become a Registered Maine Guide or your focus is on whitewater kayaking for a future of fun paddling, you can choose from a variety of skills programs that we offer. Depending on which training program you choose, you will learn what it takes to achieve the skills necessary to navigate whitewater rivers safely, paddling skills for a lifetime of enjoyment, river safety and awareness, wilderness first aid, and ultimately the confidence and lifelong skills necessary for personal and professional growth.
Northeast Whitewater is Maine's leading provider of experiential and outdoor instruction programs for youth and adults. Regardless of who you are or where you are from, there is a Northeast Whitewater course that is right for you. Experience Northeast Whitewater programs by participating in our Whitewater Kayak School, Swiftwater Rescue Training, Whitewater Raft Guide Training, Maine Recreation Guide Course Wilderness First Aid or Wilderness Advanced First Aid to gain the skills necessary to grow in the outdoor field. We can help!