Northeast Whitewater partners with area bed & breakfasts, campgrounds, motels, and inns in the Moosehead Lake Region, to offer multiple lodging options to complement your outdoor adventure. Choose from a wealth of Shirley, Greenville, Rockwood and Abbot, Maine area lodging options to make your Maine Vacation a memorable experience. You can also let us take the guess work out of your vacation planning by setting you up with one of our all inclusive Moosehead Lake Vacation Packages. Also be sure to check out some of the great sites listed below. They help us maintain our web presence and offer great products and services. Thanks you to all our Northeast Whitewater friends and partners.
Campgrounds
Spacious Skies Balsam Woods Campground – Abbot
Balsam Woods Campground is your best choice when your looking to go camping in Maine! We are situated on a beautiful 115 acre piece of property. There is no road noise, just the sounds of nature! We have a lot to offer, including, Free Wi-Fi, Free Hot Showers, a Fully Stocked Store, a Snack Bar, Game Room, 25×50 Inground Heated Pool, Playground, Walking/Biking Trails, Direct ATV Trail Access, Kayak Rentals, Hay Rides, and Much More!
Leisure Life Resort – Greenville
Our affordable rooms are all efficiency units, plenty of room for family or friends. Available for 1 night only or longer stays. Visit our family restaurant and lounge on the premises with pool tables and juke box. Located on 36 acres, we have an outdoor swimming pool, a driving range and more! Conveniently located 3/4 of mile from town, it's the perfect place to stay before or after a fun rafting day. Camping is also available.
Moosehead Family Campground – Greenville
Bed & Breakfasts, Inns, and Lodges
The Lodge at Moosehead Lake – Greenville
Your destination in rustic sophistication! Inland Maine's only AAA 4-diamond Inn for 14 consecutive years. Karen Brown "Most Romantic" Readers' Choice Award for 2007. Boston magazine's New England Travel & Life's recent recipient of the 2007 BEST of New England. Andrew Harper's Hideaway Report 2005 Grand Award Winner in the 26th annual Hotel of the Year competition. Singled out as one of the top 24 "Worlds Most Captivating Hideaway Hotels". Winner of the 2004 "Most Outstanding Inn in North America" Conde Nast Johansens, guide to the finest Inns in the World Member: Select Registry – Distinguished Inns of North America
Greenville Inn at Moosehead Lake – Greenville
An 1885 restored lumber baron's mansion, the award-winning Greenville Inn overlooks Moosehead Lake and the Moose Mountain Range. The inn offers lurxury and family suites, private cottages, and historic inn rooms. Known as the area's acknowledged fine dining spot, the two relaxing dining rooms offer beautiful mountain sunset vistas. The menu offerings are imaginative, elegant and delicious, with a comprehensive wine list. A one block stroll has you at the shores of Moosehead Lake and the center of town.
Spencer Pond Camps – North Woods Magic… the way life used to be
Six remote lakeside log cabins welcome you with spectacular views of Maine's second most photographed mountain. Unwind in natural beauty, the way life used to be. Built in 1901, Spencer Pond Camps are the only cabins on the Pond and sit in the shadow of Little Spencer Mountain. Recognized as an environmental leader, the Camps are Green Certified by the State of Maine and are adjacent to the Maine Birding Trail. Our rustic-cozy cabins are fully equipped for housekeeping and comfort with screened porches and rocking chairs, private docks, and a canoe to use free of charge with each cabin rental. We are 34 miles from Greenville, providing an affordable family and pet friendly vacation, lots of moose and wildlife watching, birding, hunting, fishing, many hiking and paddling opportunities, all in a wilderness experience. Discover the magic of the North Woods and make Spencer Pond Camps your wilderness retreat.
The Oak Lodge on Kineo Island – Rockwood
Freedom House Bed and Breakfast – Dover Foxcroft
Historic Pittston Farm – North Maine Woods
Cabins, Sporting Camps, and Private Vacation Rentals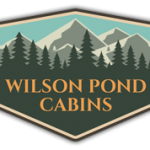 Wilson Pond Cabins – "The Best Kept Secret in the Moosehead Lake Region!"  Year-round cabin rentals in beautiful Greenville, Maine. Family adventure abounds in the Moosehead Lake Region. There are numerous outdoor activities for the whole family including hiking trails, beaches, and phenomenal wildlife watching!
Mt. Chase Lodge – Mt. Chase Lodge is a long established family owned and operated sporting camp in Maine's Shin Pond, Patten Maine and Mt. Katahdin area of The Maine Highlands.
Moosehead Hills Cabins – Greenville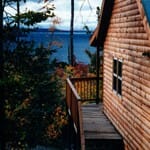 Enjoy the ultimate in rustic luxury. Beautiful log cabins on Moosehead Lake and Loon Lake (aka Wilson Pond). Jacuzzi bathtubs; real wood-burning fireplaces; fully equipped kitchens. Handmade cotton quilts and luxurious down comforters to curl up in on a crisp fall or winter night. All-natural soaps and candles milled locally. 50 acres of snowshoeing and nature trails on-site. Gorgeous views and sunsets. Moose watching; hiking; kayaking; dogsled adventures; massages. On the snowmobile trail. A wilderness treasure you won't find anywhere else!
Misty Morning Cottages – Rockwood
Maine Escapes Cabin Rentals – Rockwood
Tomhegan Wilderness Resort – Rockwood
Open year-round with 100 years of history and tradition with 9 cabins and a lodge for rent. Located in a large nature preserve and with over a half-mile of private Moosehead Lake waterfront, nature and year-round family, and sportsman activities abounds. The pristine setting of Tomhegan, its hospitality, well maintained facilities, camp store and grounds are perfect for family, hunting, nature watching, and fishing. Enjoy the hospitality, privacy and rich Maine traditions.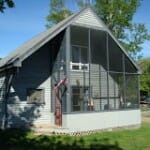 Originally simple cabins built in 1950 for fishermen (and named after the locally famous fishing fly), have been improved over the years to afford you, your family and friends a comfortable stay and the best of four-season activities. The peace and tranquility of our riverside retreat can be enjoyed any time of year. With over 1000′ of shore frontage there is a view to be taken, a photo to be captured and an experience to be had at every turn. This is a place where you can re-connect with nature, witness the wide open starry skies and be completely comfortable while doing it
If you enjoy nature and the outdoors, you've come to the right place! Wilsons is the ideal destination to spend your vacation, with innumerable activities to interest every member of the family, young or old. Wilsons is the perfect place to do everything…or nothing at all!
Motels and Condominiums
Chalet Moosehead Lakefront Motel – Greenville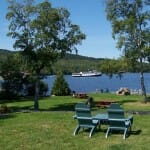 Overlooking Moosehead Lake, this seasonal motel with exterior entrances is 1.5 miles from downtown Greenville, 10.8 miles from Lily Bay State Park and 5 miles from Northeast Whitewater.
Leisure Life Resort – Greenville
Our affordable rooms are all efficiency units, plenty of room for family or friends. Available for 1 night only or longer stays. Visit our family restaurant and lounge on the premises with pool tables and juke box. Located on 36 acres, we have an outdoor swimming pool, a driving range and more! Conveniently located 3/4 of mile from town, it's the perfect place to stay before or after a fun rafting day. Camping is also available.
Other Links of Interest
Moosehead Lake Chamber of Commerce – Moosehead Lake, Greenville, Maine
Penobscot Paddle and Chowder Society – Outdoor loving paddling club.
Go-Maine.com – Bangor, Maine Tour Companies.
SmithRock.com – a complete Smith Rock climbing and hiking resource guide with detailed climbing routes, weather, photos, videos, state park and camping info, online store, and chat area for rock climbers.
River Valley Lodge (NZ) – New Zealand Outdoor Adventure Resort. Comfortable accommodation options, restaurant & bar. Experience white water rafting, scenic and family rafting, horse back riding, fly fishing and guided walks. Enjoy spa, sauna and massage after your days activities at our riverside spa.
River Recreation – Providing whitewater river rafting adventure to Washington, Oregon, Idaho, and British Columbia, since 1982.
Whitewater Rafting Vancouver BC – REO Rafting Resort offers whitewater rafting trips and family adventure vacations near Vancouver BC, Whistler, Seattle and Vancouver
Island, British Columbia.
Wataugakayak – We provide guided Whitewater Rafting In Tennessee, White Water Rafting In North Carolina, river and lake kayaking adventures and Whitewater Kayaking In North Carolina.
White Water Rafting Philippines – Raftingphilippines.com provides information about the different white water rafting destinations in the Philippines. This site suggests great places categorized in the three major islands in the Philippines where river trippers could experience the thrill and excitement about white water rafting adventure.
Go-Maine.com – Bangor, Maine Tourist Attractions.
AcadiaMagic.com – Bar Harbor and Acadia National Park Attractions.
Marine Ice Chests – Rather than buying a new cooler every year, consider a Yeti Cooler, which will last years.
Indian Hill Trading Post – If you are a fishing, boating, hunting, or outdoor enthusiast, then Indian Hill Trading Post has what you are looking for. From groceries to sporting supplies and boats, Indian Hill has it all, including a gas station open 24 hours a day
Maine Dogsledding Adventures – Nahmakanta Lake Camps
Nahmakanta Lake Wilderness Camps – True Maine Wilderness
Cozy Camp Rentals – Cozy Camp Rentals on spectacular Wyman Lake and banks of the mighty Kennebec River, where the Dead River and Kennebec Rivers join.
Maine Moosetracks Blog – Maine moose sighting information and blog.
Maine Moose Watching Tours – Maine Moose Watching Tours – Moosehead Lake Greenville Maine.
Northeast Whitewater Blog – Your adventure destination for Northeast Whitewater Rafting, Maine Moose and Moosehead Lake Things To Do!
Northeast Rafting – Maine Whitewater Rafting information and daily blog