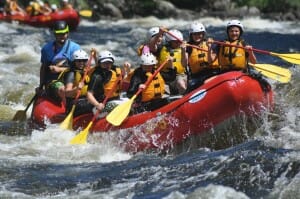 Northeast Whitewater is the closest whitewater rafting company and moose tour guide service to Acadia National Park and Bar Harbor. When you visit Maine's coast, we invite you to come inland and visit Maine's largest lake, Moosehead Lake, our pristine rivers, and wilds of Maine's North Woods with us.
Let Northeast Whitewater be your basecamp to all of Maine's whitewater rafting rivers. Located in the heart of whitewater rafting country, between both the Kennebec and Penobscot rivers, we can offer you a mild to wild whitewater rafting trip suitable for all ages and abilities. Since we are the closest rafting guide service to Bar Harbor and Acadia National park, you can choose to come inland as a day trip for whitewater rafting or plan on choosing a stay and play package, if a day trip just doesn't seem like enough time to take in all that Northeast Whitewater can offer you. Plan for just under a 2-1/2 hour drive from Bar Harbor to Moosehead Lake to enjoy a change of pace from your Maine coast vacation.
Northeast Whitewater raft guides are knowledgeable and make your Bar Harbor whitewater rafting vacation special; each with interesting stories, friendly service and our guide's are fun to spend the day with! Enjoy our famous grilled riverside BBQ half way through the whitewater rafting trip at our riverside lunch site. We sizzle up steaks, BBQ chicken, vegetable salads, our famous river rice, bread, and brownies to quench your hunger mid-way through your whitewater rafting adventure trip.
You can choose from our Kennebec river whitewater rafting day, great for families and children as young as 8 years old. Our Kennebec river trip is also our shortest trip, which our Bar Harbor and Acadia whitewater rafting guests appreciate the thrill of the whitewater rafting adventure and like the shorter day, to account for the drive to or from Bar Harbor to Moosehead Lake. Looking for a step up in whitewater excitement while enjoying your Bar Harbor vacation? We recommend our Penobscot river whitewater rafting trip if more adventurous rafting is your goal. The Penobscot raft trip is a longer day trip than the Kennebec river rafting, so you may want to consider one of our Stay & Play Packages to slow down the pace.
Since Northeast Whitewater is the closest rafting and moose tour company to Acadia and the Bar Harbor region, you will want to check out the other Moosehead Lake area Trips we offer. We provide personalized half and full day trips in whitewater rafting, moose tours, kayaking, canoeing and waterfall hikes. Call Northeast Whitewater, your Bar Harbor whitewater rafting connection today to talk about your Maine vacation trip plans! 207-695-0151.