---
Seboomook Rafting Description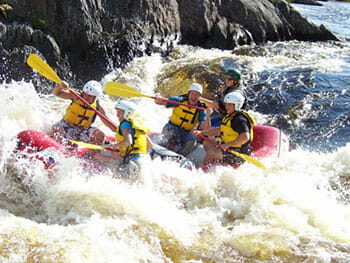 The gem of the North Maine Woods is the Seboomook section of the Penobscot River, where whitewater rafting becomes a day for playing in the bubbling rapids. Spring snowmelt means high volume Maine rafting with class III and IV rapidly flowing sections of whitewater on the Seboomook. During the summer months there are consistent river flows that are great for youth and families that want to experience whitewater rafting, but want a milder Maine rafting experience. We raft the Seboomook section of the Penobscot River twice for maximum whitewater fun. There are ten ledge drops that create big waves, hydraulics, and rafting features that make this whitewater rafting trip exciting for everyone. Paddle hard through The Jaws, play and surf at Particle Accelerator and let's see your moves at Move Maker. The Seboomook section of the Penobscot River is ideal for beginner rafters or anyone that is ready to try their hand at navigating their own inflatable kayak. This is the perfect addition to your Maine vacation list since we are located near other popular destinations like Greenville, Bar Harbor, Acadia National Park, and Bangor Maine.
Ask about Northeast Whitewater's Canada Falls and Seboomook overnight rafting trip Maine vacation packages.
---
Seboomook Whitewater Rafting Pricing
---
Gallery
---
Seboomook Whitewater Rafting FAQs
What Equipment is Provided for the Rafting?
Northeast Whitewater provides all the equipment you need for your Seboomook whitewater rafting trip, including state-of-the-art self-bailing rafts, Type V lifejackets, paddles, helmets and safety equipment. Wetsuits are available at an additional cost and are required on some whitewater rafting trips on the Seboomook.
Who Else Will Be On The Raft With Us?
Every boat on a Northeast Whitewater Seboomook whitewater rafting trip is helmed by a Registered Maine Guide.
How Do We Get To The Seboomook River?
Northeast Whitewater provides the local transportation for your Seboomook Rafting.
What Time Does The Rafting Begin?
All Seboomook rafting trips meet at the Northeast Whitewater Moosehead Lake Basecamp at 8am.
Will We Need To Bring Our Own Lunch?
Our famous river lunch is included in your Seboomook whitewater rafting adventure.
Will There Be Photos Available From Our Trip?
Northeast Whitewater screens a photo slideshow of the day's whitewater rafting adventure (available for purchase). Video is available on any Seboomook whitewater rafting trip at an additional cost and must be requested in advance.
What Is The Minimum Amount Of People Required For A Rafting Trip?
We pride ourselves on small, personalized trips. Northeast Whitewater requires a minimum of eight participants on guided Seboomook whitewater rafting trips. If your party is less, you can join an existing whitewater rafting trip.
How Much Do The Rafts Cost?
Sport Rafts are available for all Seboomook whitewater rafting trips. Sport Rafts are the smallest rafts on the river. Everything looks and feels bigger. Sport rafts guarantee that you will have your own raft, and are driven by only the most experienced Northeast Whitewater Registered Maine guides.
$25 per person for a 14′ raft (6 person minimum)
$50 per person for a 13′ raft (4 person minimum)
Ask about our Two Rivers in Two Days discount whitewater rafting packages
Ask about our Canada Falls and Seboomook overnight rafting trip Maine vacation
---
Testimonials
Just wanted to thank you again for another awesome time on the river. You guys do a great job making sure everyone has a good time…and we sure did. Can't wait to see you again next year!"

Joe, Kelly, and Celine M.