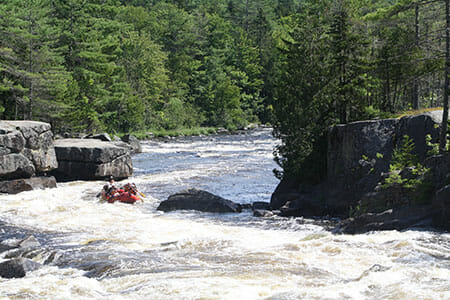 A crackling campfire. The call of a wild Maine loon over the lake. Falling asleep on the riverbank to the cadence of whitewater rapids. A brilliant sunrise followed by a brilliant sunset. Make all this and more part of your Maine overnight camping and Maine whitewater rafting trip when you book overnight adventures with Northeast Whitewater registered Maine guides. You don't need to pack a tent or a stove on your Maine vacation—we provide all the equipment, cook delicious meals over the campfire and bring you into the world we love.
Overnight trips are guide favorites. Overnight whitewater rafting trips allow for earlier starts and more time on the river. And overnight camping trips are safe, hassle-free overnight adventures for youth groups, Scouting trips, summer camps, corporate retreats or family vacations. Overnight trips mean the fun doesn't have to stop when the sun goes down, and your overnight adventure starts up again as soon as the sun rises. Call us to create your own Northeast Whitewater overnight whitewater rafting trip or overnight camping trip today!
---
Kennebec River Overnight Rafting Trips
The East Outlet of the Kennebec River starts at Moosehead Lake, the headwaters of the Kennebec River overnight adventures, and the fun never stops. Our Kennebec River overnight trip is our #1 overnight rafting and overnight camping adventure in Maine! This whitewater rafting overnight trip lets you play on the river in your choice of whitewater crafts—canoeing and kayaking, to name a few. Your registered Maine guide provides all whitewater rafting and overnight camping equipment, and sets up your own private Maine overnight camp at our wilderness island overnight site. Enjoy swimming, paddling around the river and searching for moose and other wildlife near our island overnight camping site at night. We can customize this trip for any group – family, friends, summer camps, and scout troops!
Call Northeast Whitewater to set up your East Outlet Kennebec River whitewater rafting overnight camping adventure today 1-207-695-0151.
Canada Falls and Seboomook Overnight Rafting Trips
Our popular two day Canada Falls and Seboomook Rafting and Inflatable Kayaking overnight trip is held annually Labor Day Weekend each season. Enjoy white water rafting on class V Canada Falls and rafting or inflatable kayaking on the Seboomook. Relax by the campfire, enjoy a cold one with your friends and family (byob), and take in the beauty of the North Maine Woods. Your registered Maine guides cook delicious meals and provide two days of world class whitewater adventure. This is a great overnight raft trip vacation for adventurous whitewater enthusiasts to enjoy!
Call Northeast Whitewater to set up your Canada Falls & Seboomook whitewater rafting overnight camping adventure today 1-207-695-0151.
---
Penobscot River Overnight Rafting Trips
The Penobscot River – famous for class III-V whitewater rafting and world-class fishing – is your personal playground on a Penobscot River overnight adventure. When you want world-class, action packed whitewater, this is the overnight rafting trip you want. We provide all the rafting and camping equipment, and our registered Maine guides can customize the Penobscot river experience into whitewater rafting, fishing, kayaking, ice cave hike, and more, deep in the Maine woods.
Call Northeast Whitewater to set up your Penobscot River whitewater rafting overnight camping adventure today 1-207-695-0151.
---
---
Overnight White Whitewater Rafting FAQs
All equipment provided. State-of-the-art self-bailing rafts and inflatable kayaks, Type V lifejackets, paddles, helmets, all safety equipment, transportation, tents, ground pads, 4 meals, Registered Maine Guide on every Inflatable Kayak and whitewater rafting trip, and photo slideshow of the days adventure (available to purchase at an additional cost).
Minimum Age 6 years or older.
No experience necessary.
Minimum 8 participants on guided trips or join an existing overnight trip.
Wetsuits are available at an additional cost and required on some trips.
Video is available on any trip at an additional cost and must be requested in advance.
We pride ourselves on small, personalized trips.