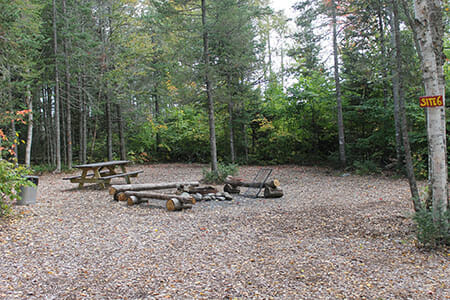 Northeast Whitewater camping connects guests with nature and adventure at our Lodge, Campground and Guide Service at Moosehead Lake, Maine. Surround yourself in nature, when staying amongst the tall pines and the birches of our wilderness camping area when you visit the north woods of Maine and enjoy activities with Northeast Whitewater. We have kept our campground small so that it offers privacy and quiet, and designed it so that vehicles are kept away from most of the campsites. Northeast Whitewater Lodge, Campground and Guide Service is your best camping area for youth group camping trips, couples seeking a quiet, private wooded refuge and families and friends excited about an upscale approach to sleeping under the stars, in our Northeast Whitewater Yurts.
Northeast Whitewater camping has tent camping sites for an intimate Maine woods camping experience, as well as large, tent camping sites for groups looking to spread out and create their very own Maine woods camping oasis for privacy; ideal for both individuals and groups. Northeast Whitewater Yurts glamping is designed comfortably to sleep up to 1-2 guests in our 16′ King Bed Yurts and up to 6 guests in our 20′ Bunk Bed Yurts. Northeast Whitewater yurts are perfectly situated for our families, youth groups and outdoor retreats. Camping and yurt glamping amenities include large bathhouse, bathrooms, changing area, hot showers, drinking water, picnic tables, fire rings, and large group camp sites.
Since Northeast Whitewater Lodge, Campground and Guide Service is known as Moosehead Lake Things to Do, you can combine your Northeast Whitewater camping or yurt glamping stay with our Whitewater Rafting Trips, Maine Moose Tours, Waterfall Hikes, Ice Cave Excursions, Experience Trips, Maine Outdoor Instruction and Training Programs or just take it easy, by enjoying camping and our yurts in the Maine woods with us. Challenge your friends or Northeast Whitewater guides with a game of volleyball in our new beach volleyball court, play horseshoes, try the corn hole game, or play around the world at our basketball hoop. Whatever the adventure, enjoy camping, stories around the campfire and a comfortable camping site or Northeast Whitewater yurt to call your Maine woods home while you visit Northeast Whitewater Lodge, Campground and Guide Service at Moosehead Lake, Maine!
*Tent rentals available.
*2 night minimum stay on most weekends in Northeast Whitewater Yurts
*Please note all camping sites and Yurts are ideally suited for guests joining Northeast Whitewater on any of our trips and tours. All lodging is exclusively reserved for guests participating in Northeast Whitewater activities. Access to all sites are foot traffic only.
Call Northeast Whitewater Lodge, Campground and Guide Service to set up your Moosehead Lake Things to Do and Stay & Play Packages with Northeast Whitewater Camping or Yurt Glamping today!
Yurt Camping FAQ:
Are pets allowed?
No, pets are not allowed in the campground or yurts.
Do the yurts have bathrooms in them?
No, the yurts don't have bathrooms but we have a bathhouse right on site with hot showers and facilities.
How far is the bathhouse from the yurts?
Just a quick walk across the parking lot will bring you to the bathhouse!
How many people can the yurts sleep?
This is a variable question, as there are three different types of yurts at our resort. First, we have king bed yurts that sleep up to two guests. Next, we have our family yurt that can sleep up to five guests comfortably. Lastly, our bunk yurts sleep up to six guests. If you have more than 6 guests in your group, we also have cots* available for rent.
*Cot rentals are by inquiry only.
Where can we buy firewood?
Right here! Our campground and retail store has everything you need, purchase your firewood and ice right here!
Is there a place to eat close by?
Yes! Just a few minutes north of us is the Town of Greenville, nestled on the foot of beautiful Moosehead Lake. There you will find a grocery store and some locally owned and operated restaurants, shops, and more!
Do I need to bring my own bedding?
No! We provide all the linens and pillows during your stay! We do suggest bringing your own towel. However, if you're looking to pack light, we have towels available to rent for the duration of your stay for just $5.00
Can I stay without booking an activity?
No, we reserve all lodging for guests who are taking part in our activities. This is due to the limited availability in our smaller campground. Additionally, a majority of our guests are waking up early in the morning for their daily adventures. Staying right on our base provides a convenient way for guests to leave directly from the campground and head out on their excursion.