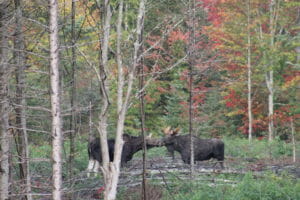 Looking for moose during your Maine vacation? Experience the North Maine Woods with the whole family on a search for the iconic Maine moose! Here are 5 things to expect on a moose tour in Maine with Northeast Whitewater
1) Beautiful Scenery
The Moosehead Lake Region is home to some of the most beautiful sights in Maine! A few minutes up the road from us is the town of Greenville, Maine. When you first enter into town you are greeted with a breathtaking view of Moosehead Lake. Moosehead Lake is the largest lake east of the Mississippi contained within one state. The foliage is wonderful year round! June, July, and August bring bright beautiful greens. September and October are great for Maine leaf peeping providing a range of beautiful colors. Whether it's a moose canoe tour or a land-based van tour there is no shortage of amazing sights to be seen in Maine.

2) Experienced Maine Guides
Northeast Whitewater takes pride in offering an unforgettable experience to guests and this starts with taking the time to hire and train some of the best Registered Maine Guides. Our guides are knowledgeable and friendly. Most importantly, they take moose watching very seriously. We're just as excited to see Maine Moose as you are!
3) Interesting Facts
Booking a moose tour not only provides a great opportunity to see wildlife, but there's also lots of information to be gained! Our Registered Maine Guides provide information about the history of the Moosehead Lake Region and interesting facts about the wildlife and plants in Northern Maine. Moose touring with Northeast Whitewater provides you the opportunity to learn all about our beautiful area!
4) Not just moose, but a variety of wildlife
Our only goal isn't moose! We aim to see various wildlife and getting you out into the woods provides a great opportunity for a range of wildlife sightings. Just a few of the animals you might see are bald eagles, red fox, white tail deer, black bears, loons, beavers, pond otters, New England cottontail or snowshoe hare, and of course moose! So, don't forget to bring your camera – Better yet! Book a wildlife photography tour and capture the beautiful sights with your own personal guide.
5) Brownies!!
Last, but certainly not least – The brownies! During each tour, we provide brownies to our guests, made right here by our guides in our commercial kitchen. They are definitely a hit on our tours and the perfect addition to a morning or evening spent searching for moose. Don't just take our word for it… Check out what our guests have to say!
Great Experience in the Maine Woods!
"We've done a moose tour twice with Northeast Whitewater and they are great! We did see moose both times, although only one and from a great distance the second trip. That was only because of the lateness of the season, though-not for lack of trying! The guides are well informed on the local history and are very entertaining. Hot coffee and homemade brownies were a pleasant surprise. The scenery is unsurpassed! I would definitely recommend these guys- the canoe trips and van trips are both wonderful." – Cheryl Derico