Whitewater rafting in Maine is best for the entire family, so bring the kids!  We know you are looking to check something else off your bucket list this summer with your family.  Why not go whitewater rafting in Maine? Everyone should experience whitewater rafting, so pack your bags, load up the car and bring your kids on our family whitewater rafting trips.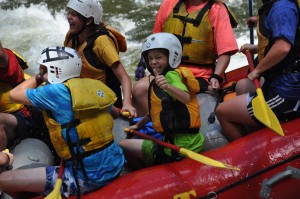 Whitewater rafting is not just for adults the kids will have a blast too! The Kennebec River is not only our #1 river trip but it is our family river. Our age requirement is 7-8 years old. Children must weigh at least 50lbs in order to fit in our PFDs (personal flotation device). On the Kennebec River you will get to experience class IV whitewater which means big waves and big fun. We hit all of our major rapids on the upper portion of the river, then grab our lunch gear so everyone can enjoy a scrumptious riverside BBQ and then relax after lunch on the lower half of the river.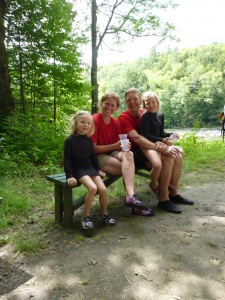 The lower half of the Kennebec river is so much fun after experiencing class IV whitewater because it gives you the chance to just chill out on the raft, catch some rays, play games, get to know everyone on your boat, and swim along side your raft in the river. We also offer inflatable kayaks for our guests looking to try out a different water craft in the slower moving water. This gives you the opportunity to paddle around nearby to the rafts and is great if you have both young kids and teenagers because it allows for options to make the trip even more awesome. Just another perk for everyone of all ages to enjoy!
We hope to share the Kennebec River experience with you and your family this summer. As Sue Fitzmaurice once said "you must go on adventures to find out where you truly belong".  So, start planning your next family adventure and bring the kids for a day of whitewater rafting in Maine with Northeast Whitewater!  You'll be glad you did.
Give us a call to experience the best family rafting trip 207-695-0151.  Or browse for available family rafting trips here.
Save