Northeast Whitewater is the perfect outdoor adventure guide service for family, church, scout troop or corporate excursions for fun, excitement, team building, and memories that will last a lifetime.  Why not kick off the summer with us on our Memorial Day Whitewater Weekend rafting trip on the Kennebec River? Our experienced whitewater rafting guides will lead your raft throug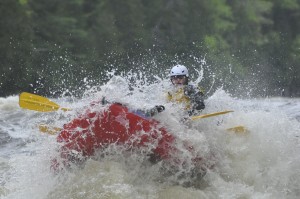 h the best whitewater rapids, swimming and surfing spots for big splashes and playing in the waves of the Kennebec River for a safe, super fun, whitewater rafting day.  During your trip you'll get a taste of whitewater at "Taster Wave", the pulse of "Big Mama", the now you see them, now you don't of "Magic Falls Rapid", and the big whitewater wave train leading into, "Whitewasher Rapid".  Book now for pre-season pricing!
Memorial Day Whitewater Weekend Kick-off
Your Kennebec river whitewater rafting adventure includes a licensed registered Maine whitewater rafting guide, all necessary safety equipment and state of the art Aire rafts, personal flotation device (PFD), helmet and paddle!
Northeast Whitewater uniquely offers our Famous Grilled Riverside BBQ at our riverside lunch site.  Our famous riverside BBQ includes choice of steak, chicken, or veggie burger, river rice cooked up in our BIG Daddy Fry Pan, Pasta Salad, Bread, and customer favorites our chewy, gooey chocolate brownies.  After lunch enjoy a float to take-out and shuttle bus back to Northeast Whitewater base lodge for slideshow of the day's whitewater rafting excitement!
Reminder:  During the "off season" wetsuits are required prior to June 15 due to the water temps and unforeseeable weather conditions!  Wetsuits are available at Northeast Whitewater for rent ($15-$25) if you do not have your own.   A user fee of $6 per person for the Kennebec river rafting trip covers the Maine Inland Fisheries & Wildlife river and road access.
Whether you're a first-time visitor to Maine, or a lifelong resident, it's time to get out – to the heart of it all at Moosehead Lake – and experience firsthand the excitement and one-of-a-kind thrills of Maine whitewater rafting with Northeast Whitewater this Memorial Day Whitewater Weekend!
Call or Book Now for pre-season pricing with Northeast Whitewater 207-695-0151 and get in on our Memorial Day Whitewater weekend!