There's so much to do when you visit Maine's largest lake -Moosehead- and the woods of Maine!  Northeast Whitewater is known as Moosehead Outdoor Adventures; we guide authentic adventures in the woods of Maine on our whitewater rafting trips, moose watching tours, waterfall hikes, canoeing and kayaking trips to immerse guests in what we think offers the best Moosehead Lake experience. We love the Moosehead Lake area and know you will, too.
Check out our recommendations for favorite local food and restaurants, seeing wildlife, adventuring with us and on your own to have the best Moosehead Lake experience.  Here's some of our ideas to make your Moosehead Lake experience, unforgettable during your visit.
Maine Birding!
Maine's boreal forest is a prime bird-watching spot for singing warblers, thrushes, vireos, and northern finches. Spruce Grouse, Black-backed Woodpecker, Boreal Chickadee, Gray Jay, and of course seeing a Moose are highlights bird watching enthusiasts visiting the Moosehead Lake area.  This may sound looney, but have you heard the common loon? The bald eagle is one of many birds you can spot in Maine year-round. Maine's inland fisheries and wildlife reports that Maine has the largest population in the Northeast, 500 pairs.    
Add the Moosehead Lake area to your birding bucket list!
B52 Plane Crash Site!
On January 24, 1963 a United States Air Force Boeing B-52C Stratofortress with nine crew members on board lost its vertical stabilizer due to turbulence at low altitude and crashed on Elephant Mountain six miles east of Moosehead Lake, killing seven crew members. The pilot and navigator survived the night, suffering temperatures dipping to -28 degrees Fahrenheit and five feet of snow, before they were rescued.  The B-52 had a wingspan of 185 feet and was 160 feet long from head to tail. Twisted metal, shredded wheels, rusted machinery components, wires and the partially intact tail cone are among the wreckage.
Northeast Whitewater does offer guided interpretive tours to the site throughout our season May – October.
Moosehead Area Hikes!
Seek out Maine's most scenic waterfalls and hikes less than 10 miles from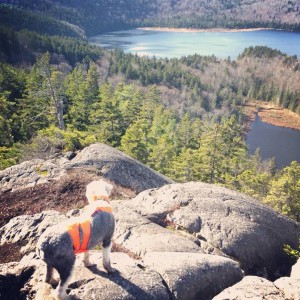 Northeast Whitewater.  
Based on your skill level you can choose from short day hikes or opt for a more rigorous and challenging mountain based on your hiking pursuit. Nearby to Northeast Whitewater are Big Moose and Little Moose Mountains, and Eagle Rock.
If the spirit of competition gets you motivated, consider the Moosehead Pinnacle Pursuit. The Moosehead Pinnacle Pursuit is a six mountain hiking challenge. The mountains include: Mount Kineo, Number Four Mountain, Whitecap Mountain, Eagle Rock, Big Moose Mountain, and Borestone Mountain.
State Parks (Lily Bay & Mount Kineo)!
Moosehead Lake is the largest mountain lake in the Eastern United States, with over 80 islands scattered throughout its almost 75,000 acres of natural freshwater home to two State Parks.
Lily Bay State Park is located on the east shore of Moosehead Lake. You are assured to see whitetail deer walking the tote roads, waterfowl on the shores of the Lake and patrons enjoy swimming, kayaking and relaxing at this scenic and beautiful State Park.
Mount Kineo rises 700 feet high above the surface of Moosehead Lake. A commercial boat shuttle to Mount Kineo leaves routinely from Rockwood, located on Moosehead Lake's western shore on the hour daily. Choose from 4 different hiking trails to the summit. Then, take a dip in the lake, sunbathe on the sandy beach and enjoy a picnic lunch on your very own (for the day) island hideaway!  
Local eats – our favorite restaurants! 
Northeast Whitewater is in what we think is the perfect location – 5 miles between two lake towns and the best local eats. Head north to Greenville and stop at Jamo's to get our favorite, the Dagwood. This is a locals place great for pizza after a long day enjoying the outdoors or grabbing a sandwich before your next adventure. Stress Free Moose pub has an extensive selection of craft brews, wine and good food for a social and lively atmosphere.  Head south to Monson for the best BBQ at Spring Creek BBQ or a lively pub with great grub at the Lakeshore House on lake Hebron.  The Monson General Store has craft beers, local wines and delicious breakfast and lunch eats. This is the ideal stop for guests coming through Monson needing a quick bite to eat before our afternoon Moose Watching Tours!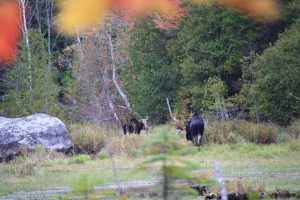 We recognize that your vacation may be to follow your inner compass and do your own thing, but with a little help from Northeast Whitewater guides you will be well on your way to enjoying all that there is to see and to do at Moosehead Lake. Northeast Whitewater welcomes you to enjoy the best Moosehead Lake experience.  Whether it be local eats, adventures or relaxing – let Northeast Whitewater be your guide!
Adventures are our thing, let's connect to talk travel plans, please be in contact with our adventure coordinators 207-695-0151 and browse our trips!