Adventurous Rafting Trips that top our outdoor adventure list!
Okay, we get it, whitewater rafting is adventurous, but when you are looking for the top adventurous rafting trips in Maine, there are specific raft trips that should top your adventure travel list. Northeast Whitewater has rafting trips for all abilities and levels of whitewater excitement, so you can be sure that you will get the best rafting trip based on your interests. When you want whitewater rafting that is sure to be the most adventurous, with peak thrills, adventurous whitewater and liquid excitement, make sure to go whitewater rafting on one of these adventurous whitewater rafting trips this season.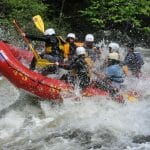 Kennebec River High Water Rafting is when the flow nearly DOUBLEs its normal volume. This is an "aggressive, high water adventure whitewater rafting trip" and ideal for anyone with an adventurous, go for it, attitude! Kennebec River High Water Turbine Test rafting trips get liquid excitement of huge whitewater flows out of the dam. What is a Turbine Test? A Turbine Test is when the dam operators release the maximum amount of water possible to test their water generating turbines. What does that mean for you? Huge whitewater waves; no kidding waves as tall as buildings stand 20 feet in height! You can plan to join 1 of 4 of these top adventurous rafting trips. The dates for the 2020 season are: June 13, July 6, September 12, and September 26.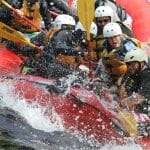 The highly sought after one time each year ANNUAL RAFTING TRIP at CANADA FALLS is our top adventurous raft trip! Canada Falls is a class V river, with steep drops. Get loosened up in the class III rapids until you hear the thundering rumble of a 20 foot waterfall called The Slide! As the whitewater excitement builds there are rapids with names to challenge your guide's decision-making at Upper and Lower Split Decision, technical, must make moves and hydraulics around every turn. Canada Falls is a unique, one of a kind, white water rafting trip with class V whitewater excitement at its highest level with 4 class V rapids, steep drops, big hydraulics and a wild whitewater time. Even more fun? This trip always greets repeat guests from this year and years past. We LOVE it! Join in the fun this 2020 season on September 5.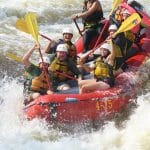 Northeast Whitewater rafts the Kennebec and Penobscot rivers daily throughout the whitewater rafting season. Have you ever stepped it up to go whitewater rafting on the Penobscot river Double Trouble raft trip? With class V action, heart pumping whitewater and spectacular scenery the double trouble Penobscot River rafting trip is adventurous whitewater rafting on the upper Penobscot river gorge rapids twice. Two times the class V whitewater action. Adventurous spirits must join this trip. Challenge the rapids of two rivers in two days by rafting two class V rivers in two days on Canada Falls annual rafting trip and double trouble Penobscot river rafting Labor Day weekend in 2020; September 6.
We look forward to your visit for the best whitewater rafting in Maine trip any day throughout our whitewater rafting season, but if you are looking for the top adventurous rafting trips schedule one of these six rafting trips with Northeast Whitewater! You are guaranteed the best whitewater rafting guides, all equipment for your rafting day trip, transportation to and from the river and a delicious riverside BBQ. Questions, contact us today. See you on the river!