So you have decided to spend some time in the Moosehead Lake area and that'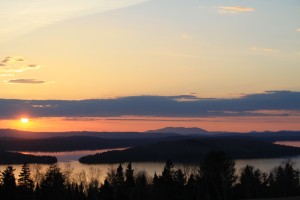 s awesome, but what do you do once you get here? Here's your free guide to Moosehead Lake things to do. Yes there are plenty of pamphlets to give you ideas, but let us share some of our hidden gems with you that may not be mentioned in those pamphlets. Who doesn't love a beautiful sunset? There is a beautiful spot just outside of town, Blair Hill. Here you not only get to watch the sun go down over the mountainous horizon, you get a full view of Moosehead Lake, Maine's largest lake. There is always postcard worthy photo opportunities here.
Who doesn't love an adventure? Let Northeast Whitewater be your guide to the best Maine adventure trips. The Kennebec River is our most popular whitewater rafting trip and our numb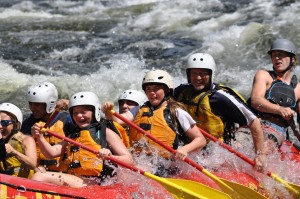 er one family trip at Moosehead Lake. Enjoy big waves at a fast pace with your friends and family, followed by a river side BBQ! Have you ever seen a Maine moose? If not, join us on one of our guided Moose Safaris that run daily. We also offer guided waterfall hikes and you'll see some of Maine's most mesmerizing waterfalls. Maybe you are a little bit of a history buff, we've got something for you too. New this year, we are offering guided hikes to the B52 Bomber crash site on Elephant mountain. On this trip you will learn about what happened to this aircraft and its crew, but you will also see the plane reminisce left from the crash.
Have you heard of The Challenge? The Moosehead Pinnacle Pursuit is a challenge open to anyone that is an avid hiker. This challenge consists of hiking 6 different mountains that are located in the region all differing in elevation and distance. Scenery and the panoramic views offered from the hikes are amazing. To participate in the challenge is super simple. All you have to do is grab an application and record the date you climbed each mountain, time you reached the summit, and write down your mailing and email address. You can download an application from the website or pick one up from the Moosehead Lake Visitor Center. If you complete the challenge, mail your application in with a $10 program entry fee. Once your application has been reviewed you will receive a confirmation letter acknowledging that you have completed the challenge. You will also receive the official MPP patch and sticker for successfully completing The Moosehead Pinnacle Pursuit.
With all these adventures and Moosehead Lake things to do who isn't feeling hungry? Lucky for you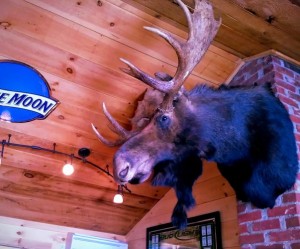 there are many great options to satisfy your biggest cravings. Must eats: Kick off your day with a hearty breakfast at Auntie M's before your adventure begins for an amazing home cooked meal.  Check out the Stress Free Moose Pub (pictured here), where you will enjoy good food and a fun, energized, family atmosphere. Enjoy live entertainment on weekends, and always the opportunity to make new friends. Maybe you just want something to satisfy that sweet tooth; our friends at the dairy bar have got you covered! Get a taste of all your favorite flavors or try one of their Maine specialty flavors, while enjoying the lake at Thoreau Park.
Start planning your summer adventure now! We recommend visiting the area during the months of May through October. Whether you come when all the plants and flowers are in full bloom or when the leaves turn vibrant fall colors, there is always something to do. Let Northeast Whitewater be your Maine adventure destination for all your Moosehead Lake things to do. Our gift shop is open daily from 7-7 for your Moosehead Lake memorabilia and our adventure coordinators are ready to help with your vacation plans. Give us a call 207-695-0151 or stop by Northeast Whitewater 155 Greenville Road, Shirley Maine. You can't miss us on your way to or from the lake!