Northeast Whitewater is proud to host all types of groups on our Moosehead Outdoor Adventures. Folks and families seeking adventure, organizations, corporate retreats and team building trips for all experience levels, scout troop adventures, and community outdoor events.  No matter if you are a Mainer or from away, Northeast Whitewater is pleased to be your host to all the Moosehead Lake area offers by providing the best group adventure trips, best group adventures, best customer service and most amazing location.  Why wouldn't you choose the best Maine rafting company to offer the best whitewater rafting and Moosehead outdoor adventure for your Group?
Families
Choosing a guided adventure vacation can take you beyond your comfort zone and allow you to try something exciting and new together as a family, that will surely create memories to last a lifetime. Venture into the wilds of the north woods to experience the splendor of seeing one of the largest animals in the northern hemisphere…Moose! Maine is home to 60,000 moose, but they are elusive so hiring a guide to take you and your family to the secret spots where moose live can be an adventure of a lifetime. All ages welcome on our moose tours.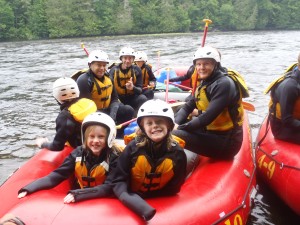 Our #1 family rafting trip is our Kennebec River rafting trip. Our registered Maine guides not only navigate through the whitewater rapids, they lead fun games both on and off the water, there is a delicious riverside BBQ served up mid-day and the finest selection of whitewater equipment to play around on the river.  All you need to do is weigh 50 pounds or by 8 years old and you are ready to go! Happy hikers can enjoy waterfall hikes and tours with Northeast Whitewater with your choice of a moderate 3 mile round trip hike or a 1 mile round trip walk in the woods.
Waterfall hikes are a great way to show your kids the Maine forest and moss covered landscapes in a 3-4 hour outing. Then don't forget to plan your stay with us! Bunk bed yurts for families or Mom & Dad stay in the king bed yurt, while the kids pitch a tent on your yurt site! No matter what the family experience your family is looking for, Northeast Whitewater has the right family outdoor adventures for you!
Scouting Trips
Adventuring in the wilderness, whether on wild rivers, remote landscapes or vast lakes and scenic rivers makes a big impact in our lives.  The connection to nature and journey through these amazing
places shapes individuals for a lifetime. Northeast Whitewater Scouting Trips and Adventure Programs promote character development, skills in the outdoors, connection to other scouts all the while building tight bonds and great memories.  Our Scouting Trips get scout troops to explore in the outdoors, while finding what is important to each scouts individuality. As an alternative to a Maine High Adventure program, Northeast Whitewater custom tailors scouting trips and scout adventure programs with an impressive learning experience, all the while having a boat-load of FUN!  Camping in in our wooded tent camping area or bunk bed yurts are both wonderful ways to experience a scout troop adventure trip at Northeast Whitewater.
Team Building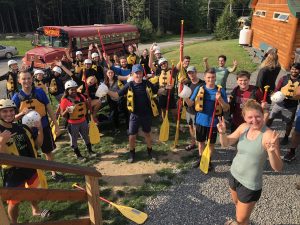 Our corporate outing and team building experience offers your team an amazing opportunity for exploration, developing at work relationships out of work, learning together and a whole lot of fun. One of the best ways to grow a team is through experiences in nature.  Enjoying a day trip adventuring with Northeast Whitewater guides and an overnight getaway in our campground or yurts expands on the team building goals of any corporate structure by taking the walls down and getting outside through thoughtful team building exercises. Join in the fun with Northeast Whitewater on your next Team Outing with one of our Experiential Trips!
Adrenaline Junkies
So you say you've rafted before, but have you rafted in Maine? Dam controlled whitewater rivers with daily scheduled whitewater rafting releases make Maine rafting some of the best whitewater rafting in the country. Choose high volume whitewater rafting excitement by rafting 1 of 4 high water rafting release days on the high water release river days on the Kennebec river. Imagine 8000 basketballs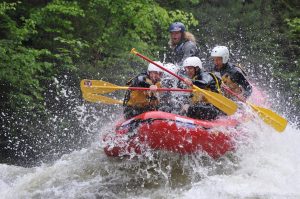 shooting out of the dam every second! But, you don't want to be so selective with only 4 dates to get on this wild whitewater ride? Step it up to challenge the rapids of the Penobscot river with daily technical, adventurous class III-V whitewater rapids. This is not your grandpa's rafting trip, friends. It's an adventurous wild whitewater rafting day any day all season long. For those of you that can be super selective and are ready for 4 class V rapids and whitewater excitement throughout this river trip than don't miss out rafting with Northeast Whitewater on Canada Falls class V river rafting day trip. Only 1 time all season long, you've gotta plan for it. All of these adrenaline junkie whitewater rafting trips are available at Northeast Whitewater. You just need to get your adventure on and come rafting with us!
From Away or From Maine
Whether you are from Maine (a Mainer) or "from away" as Mainer's say, most folks don't know about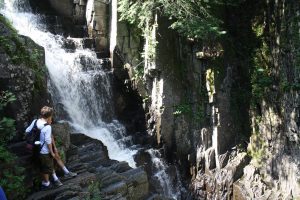 some uniquely awesome natural wonders here in our state or the state you must choose to visit – Maine!  Gulf Hagas is a gorge located in the mountains of the Maine woods and is often referred to as the Grand Canyon of the East or as we call it the Grand Canyon of Maine. The West Branch of the Pleasant River cuts through the earth for three miles creating a vertically walled slate gorge with numerous waterfalls. A trail follows the rim of the canyon offering hikers views of the falls and its geology. Gulf Hagas is one of 14 National Natural Landmarks in the State of Maine. Northeast Whitewater leads guided hikes to this awesome natural wonder.
Mainer's and folks from away, have you heard of Ice Caves? Northeast Whitewater guides Ice cave excursions, yes even in the summer! Intrigued? Heavy boulders that were plowed together by glaciers during the last ice age created the ice caves in Maine's north woods. There are metal rungs, courtesy of the Nature Conservancy, to climb down into the cave. As you descend into the ice cave, the temperature drops – much like walking into an air-conditioned room or freezer, so bring an extra layer with you on this trek! Both of these unique nature experiences are near to Northeast Whitewater, so why not cross off your list an ice cave excursion or come see Maine's Grand Canyon with us?!
Ready to choose the best Maine rafting company to offer the best whitewater rafting and Moosehead outdoor adventure for your best group adventures? Contact Northeast Whitewater today 207-695-0151 and browse our trips.