Where is the best place to see moose in Maine?
The Moosehead Lake area in the Maine Highlands is the best place to see moose in Maine! Without a doubt
this is the best place in Maine to see moose in their natural environment. The reason for the higher numbers of moose in this region is due to its massive wooded land area and thin population of people that live here.
Moosehead Lake sits in the middle western part of Maine, known as the Highlands region. It is the southern entrance to the largest woods in Maine, known as the North Maine Woods. The region covers more than 3.5 million acres of forest land bordered by Canada to the west and north. The thinly populated region is overseen by private individual owners, private industrial owners, and state government agencies.
Moose outnumber people here!
Moose live and thrive in Maine's north woods where their population outnumbers people 3 to 1. That doesn't mean that stumbling upon a moose is going to be easy, due to the large wooded area that the moose reside. What this does mean is your odds of seeing a moose are greatly increased when you visit the Moosehead Lake Area during your Maine vacation. So, make sure to make moose watching a MUST when planning your Maine getaway.
What do moose do everyday?
In May through August moose are found foraging on twigs and pond weeds. Moose eat a lot to sustain their large stature – Imagine eating 50 pounds of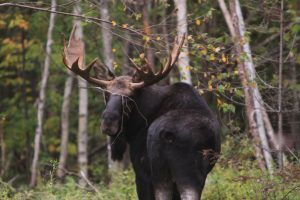 food a day! A full grown moose can stand over 6 feet tall at its shoulders and weighs 900-1700 pounds; now that's a big animal! Even due to the size of moose, they can still be hard to find due to the thick woods. So, hiring a guide is definitely recommended. Leave navigating the back roads to the experts and enjoy local information and tales from a knowledgeable Maine guide.
How do I find a moose tour guide?
Northeast Whitewater Maine moose watching tours and wildlife safaris are offered morning and evenings daily from early May through mid October. Tours are centered around moose habitat and the feeding activity on ponds, bogs and wood lots. Moose watching tours by canoe are our #1 best moose tour in the spring and summer months. Land tours by van are the best moose tours in the fall months. All moose tours and private safaris are 3.5-4 hours long with experienced and knowledgeable registered Maine guides. Enjoy a truly wild experience when you visit the best place to see moose in Maine.
If you want to see a moose (or many moose) look no further! Visit the best place to see moose in Maine, right here at Northeast Whitewater. Don't delay! Due to the popularity of our Maine moose watching tours schedule a moose tour in advance to secure your spot. Book now or contact us with any questions.