The Best Moose Tour
Northeast Whitewater strives daily to provide the best moose tour.  We take the time to hire the best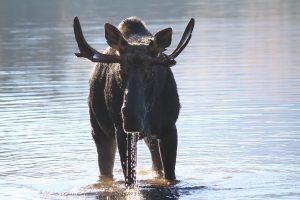 Registered Maine Guides for wildlife and moose watching.  Our moose tours are centered around the best times to see moose in their natural habitat.  When it comes to delivering on the best customer service experience for guests when visiting the Moosehead Lake area who are excited to see the Maine woods, as well as our largest lake – Moosehead Lake – and to witness in person the icon of Maine's north woods – Yes, Moose! Northeast Whitewater guides take Maine moose watching very seriously.  That is why Northeast Whitewater guides offer the best moose tour in Maine.
The Best Guides
When digging a bit deeper into your Maine moose and wildlife vacation plans, it's best to hire guides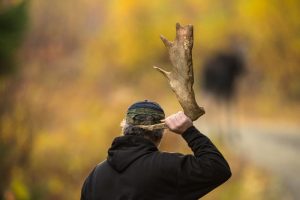 that want you to be successful in our your moose tour and wildlife sightings.  That is exactly why Northeast Whitewater guides are the best in the industry for guests when planning their best moose tour experience.  We want guests to enjoy the best possible times to be out in the Maine woods for the best possible moose tour sightings with our best guides.  This is why we time our moose and wildlife tours around the habitat of these amazing animals.  Just because we are ready for breakfast at 8 AM, doesn't mean that moose have not been up for at least 2 hours prior, feeding in their natural habitat.  This is exactly the reason we want to put our guests on the best possible moose tour times to maximize moose tour sightings.
The Best Experience
Considering the seasonality of moose tours and our moose tour sightings, you must take into the following considerations for the best moose tour experience overall.
Take the recommendation of an expert – when a local tells you that moose have been active in the early hours of the morning, get yourself up no matter how tired you are and get out there.
Moose do not walk done the streets of small communities without getting big notoriety. Therefore, please understand that even though moose live in the middle of nowhere and you may feel like you are in the middle of nowhere, you must still get out a little further with your guide to experience the real, live natural places that moose roam.
The Best Moose Tour Times Based on the Seasons
With any luck, you will see moose and be thrilled with your amazing moose tour experience always.  But, sometimes you need a little extra guidance to pick the best moose tour, in order to maximize the most out of your vacation – we get it, it's your goal to pack a lot in to a few days – take our advice for the best moose tour experience based on the time of year you are visiting Maine.
Land Tours by Van are best to maximize the most terrain in a short period of time.  Guides take guests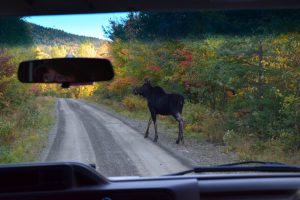 to known moose hideaways.  You will see moose actively feeding, seeking out a mate, as well as teaching their young survival skills that are necessary for a successful life in the Maine woods.  Land tours are best in September and October.  This is when vegetation on the ponds is no longer actively growing and moose retreat to the wood lots for their food.  This same thought process is important to consider in May, when the vegetation on ponds is not actively growing yet.  Therefore, May, September and October guests should opt for the land tours by van to see the most moose.
During late spring and the summer months (June – August) Moose Canoe Tours are great ways to get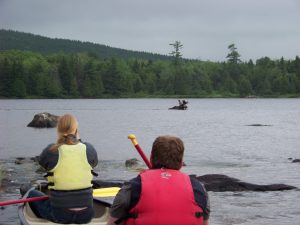 out to see moose feeding on ponds.  Our moose canoe tours are our most popular moose and wildlife tour outings simply because the opportunity to canoe in on scenic, wild and remote woods pond is a spectacular adventure.  With moose living in these remote Maine wooded areas, feeding on these shallow ponds, it's an amazing nature experience for everyone.  Needless to say, moose are not always feeding on the ponds when the weather is hot, so a morning tour is best in August versus an evening tour.  But, choosing an evening tour by canoe is typically the best to see the most moose in June and July!
The Best of Maine – Moose!
Northeast Whitewater takes pride in the history of our region, the heritage of our people and the unique wildlife that call this place home.  Moose are a unique and special part of this amazing place.  Fortunately, Northeast Whitewater guides get to show guests our natural world and one of the best parts of Maine – MOOSE.  Let Northeast Whitewater be your guide!  Go online or call 207-695-0151 for more information about our Maine moose watching and wildlife tours by land or canoe and our Private Moose Safaris and Wildlife Tours.  We look forward to guiding you into our Maine wildlife areas!