When you consider the best whitewater rafting in Maine; safety, fun and consistent water flows should be a big part of your research in making sure you are getting the best whitewater rafting trip with the best Maine rafting outfitter.  Since Northeast Whitewater is the only Maine whitewater rafting company certified in Swiftwater Rescue and is Maine's leader in whitewater training, you are guaranteed to choose the safest company when you go whitewater rafting with us.  Fun – that one is easy – since we hire the best guides, with informative, funny personalities – guests are assured that the day will be entertaining from start to finish.  Consistent water flows is one that many people don't realize when doing their research about going whitewater rafting and it's an important consideration.  Here's why:
Maine is the only state in the northeast that has guaranteed water flows every day, even when days are hot, sunny and dry in the peak of summer guests get consistent water flows and can enjoy whitewater rafting in Maine any season.  So what does that really mean for you?  You get the best whitewater rafting in Maine no matter the month, with guaranteed flows all season long.  Since choosing vacation time is about picking the best time to visit Maine in the summer for fun with family and friends, guests are fortunate to enjoy whitewater rivers during the best Maine weather.  The best whitewater rafting in Maine is easy to find with our best guided white water rafting trips listed here.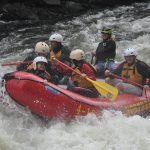 The Kennebec river is Northeast Whitewater's #1 rafting trip.  Since everyone can enjoy Kennebec river rafting it makes for the best whitewater rafting experience for families and friends.  The Kennebec river can be described best as big waves, big splashes, big thrills and BIG smiles all around the raft.
Daily Flows May – October; Ages 8+; Book Now.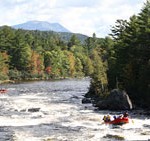 Guest that are looking to step it up for more adventurous whitewater rafting choose the Penobscot river.  Our Penobscot river rafting is scenic and wild whitewater rapids ideal for the most adventurous whitewater enthusiasts.  Guests that opt for this rafting trip are most likely to see a moose on the bus ride to or from the river.
Daily Flows June – September; Ages 14+; Book Now.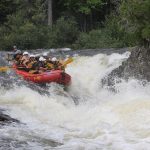 Canada Falls is the most sought after dam release for whitewater enthusiasts since it uniquely offers one high water rafting release during the summer season.  Canada Falls rafting has 4 class V rapids (that means the most adventurous rafting classification), so you are guaranteed a whitewater thrill rafting steep drops and hydraulics.
Annual rafting trip; this year is August 31, 2019; Ages 14+; Book Now.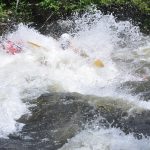 Don't let the name of this river trip freak you out, but recognize it is not for the faint of heart.  Whitewater rafting the Dead River is a high water, fast moving rafting adventure that is sure to impress rafting diehards.  Go Dead river rafting in the fall on our annual last blast rafting trip.
Last rafting trip of the season; this year is October 5, 2019; Ages 12+
Whitewater rafting is one of the best ways for friends and family to reconnect with each other and soak in the best of the Maine outdoors.  Since rafting is an outdoor adventure ideal for ages 8+ visitors are sure to find the best whitewater rafting in Maine all season long.  So what are you waiting for?  Plan your best whitewater rafting in Maine adventure now and take advice from us – come anytime – you are guaranteed awesome whitewater flows every day when you go whitewater rafting in Maine!
Questions about the best whitewater rafting in Maine?  Contact Northeast Whitewater 207-695-0151. You can also browse our trip availability.  See you on the river.