Moosehead Lake Lodging
Northeast Whitewater is located on the southern tip of Moosehead Lake, known as Moosehead Outdoor Adventures, we also take pride in our Moosehead Lake Lodging yurts, campground and preferred lodging partners around Moosehead Lake. Not only will you experience the best Moosehead Lake excursions, tours and trips with us, you will enjoy the best Moosehead Lake lodging accommodations when you visit this beautifully pristine, scenic and wild outdoor resort community.
Here's what to known before you go!
There is no such thing as one size fits all lodging and that's what is great about Moosehead Lake lodging.  There truly is something for all budgets, interests (whether that be remote, secluded camp or pristine lake views from a 5-star inn), or proximity to your planned activities. Northeast Whitewater takes the extra work out of your hands when you start right here with our Moosehead Outdoor Adventures. Based on your interests in trips, tours, private outings versus family excursions, pet friendly or interest to be in the center of it all, we then make the recommendation of what type of Moosehead Lake lodging will best fit for you. Folks sometimes say that planning their adventures first seems backwards, but if you start with us, we'll simplify the planning process.  You'll be enjoying your vacation longer, rather than spending excessive amounts of time researching and planning. Just consider Northeast Whitewater Moosehead Outdoor Adventures your courtesy adventure concierge!
Unique Lodging Accommodations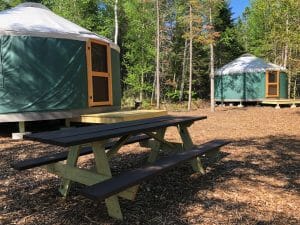 On site at Northeast Whitewater are our unique yurts and campground ideal for families and couples seeking a comfortable and convenient Moosehead Lake lodging stay. Our yurts and camping are the perfect lodging accommodation for guests enjoying multiple Northeast Whitewater activities. All trips and tours meet at Northeast Whitewater lodge check-in and store. The yurts and camping are tucked back behind our large parking area and rest comfortably among the pines and white birch trees to offer a secluded stay, with the convenience of all that Northeast Whitewater offers for adventures. Northeast Whitewater Yurts have tables/chairs, bedding/pillows, nightstands, rugs, electricity and personal fire pit and picnic table at your yurt camping site. Choose from our family style bunk bed yurts or glamping yurts with king beds for singles and couples. Star gazing at night, enjoying s'mores around the campfire and waking up ready for the next days adventure makes Northeast Whitewater yurts and camping the most convenient, budget friendly and unique lodging accommodation for our guests. Camping starts at $29/night. Yurts start at $109/night.
Lakeside Cabins and Motel
Moosehead Lake is the largest lake in Maine and due to its size, you may feel confused about the best places to stay around the lake based on seclusion, accessibility, convenience, and amenities. Check out our Around Moosehead Lake blog post to get a better idea of the communities and best known Moosehead Lake areas. Northeast Whitewater partners with Chalet Moosehead Lakefront lodging, the only motel located on Moosehead Lake. This lakeside motel offers views of Moosehead Lake from every room window. Choose from private balcony rooms to enjoy your coffee on the balcony or a standard motel room for a relaxing night stay. Rooms start at $137/night and can be scheduled directly with Northeast Whitewater.
Moosehead Lake is known for its large inventory of cabins. Lakeside cabins, camps and cottages are spread around the east, west and southern tip of Moosehead Lake near Greenville. Most lakeside cabin rentals prefer a minimum 3 night stay, which if you're renting a cabin on the lake you want to stay at least that time to get the best mix of relaxation, swimming, adventuring and excursions in while you visit. Cabins vary in pricing based on size and number of guests; check out Monson, Greenville, Rockwood, Beaver Cove and Lily Bay for your most convenient cabin stay nearby to our Moosehead Outdoor Adventures at Northeast Whitewater.
What type of Moosehead Lake Lodging is right for you?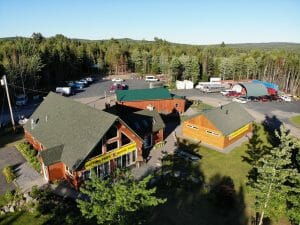 No matter the type of lodging you and your family are interested in, let Northeast Whitewater be your guide to the best Moosehead Lake lodging accommodations based on your choices of Moosehead Lake things to do. Budget friendly, to high end lakeside lodging, Moosehead Lake is a resort community with everything you need for a wonderful Maine vacation. Northeast Whitewater is at the heart of moose country, world class whitewater rafting, scenic hikes with a modern basecamp, yurts, camp store and your host to the best of what Moosehead Lake has to offer. Check out our stay & play packages, browse our availability and we will see you soon!