Moosehead Lake is a destination for everything outdoors; visitor highlights include seeing moose in their natural habitat, tackling whitewater rapids on our nearby rivers, relaxing with a book at a lakeside retreat and yes, hiking!  Not only is the Moosehead Lake area ideal for the casual hiker, it also is a destination for the more serious backpacker.  What's great about this combination of rolling hills and mountains?  Based on your skill level you can choose from short day hikes or opt for a more rigorous and challenging mountain based on your hiking pursuit.  Check out some of our favorite hikes in our Destination Moosehead Lake hiking guide!
Mountain peaks and waterfalls abound in the Moosehead Lake area, but you have to plan accordingly the time to get to some of these very remote hiking spots and roundtrip hiking time.  Fortunately, there are waterfalls and mountain peaks great for hiking enthusiasts that are nearby to Northeast Whitewater for the casual day hikers and for the more serious hikers, some destinations are an hour away on dirt roads which makes the hike and the drive both a challenging adventure.  Consider hiring Northeast Whitewater guides for both easy and the more challenging hiking pursuits!
The appalachian trail and section known as the 100 mile wilderness (the trail doesn't approach any towns or places for hikers to resupply) is 5 miles south of Northeast Whitewater and continues north to Mount Katahdin, but not before rising up and over some challenging and scenic hikes nearby to Moosehead Lake.  Goodall Falls is at the entrance of the trailhead here and a nice stop for guests looking to stretch their legs, walk a few steps on the appalachian trail and see a scenic Maine waterfall.  There is a good size parking lot here.  Barren Mountain, Chairback Mountain and White Cap Mountain are all challenging hikes on the appalachian trail in the Moosehead Lake area.  These mountains are accessible as day hikes.  Plan for a full day, bring food/snacks and water, and plan for windy weather on the peaks, so pack some layers.
Nearby to Northeast Whitewater are Big Moose and Little Moose Mountains, and Eagle Rock.  All three hikes are nearby, scenic and wonderfully versatile hikes in the Moosehead Lake are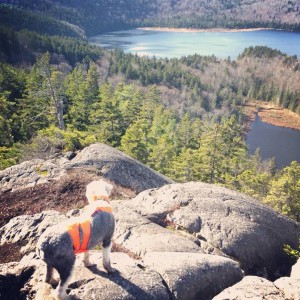 a located northwest of Northeast Whitewater in Shirley and ranging in 10-30 minutes drive time to get to the trailheads.  What we love about Little Moose Mountain is the variety of hiking trails one can enjoy here.  There are 3 trailheads to access Little Moose Mountain; the easternmost trailhead is on the left as you depart Greenville north on Route 15.  The western most trailhead is called Notch Pond trailhead and located near the boat launch of Big Indian Pond.  Our favorite section is the Big and Little Moose Ponds trailhead, which is a loop trail.  There are ledges and dramatic cliffs, mossy covered boulders and tall standing evergreen trees add to the beauty of the hike.
Big Moose Mountain offers panoramic views of Moosehead Lake; where you can see the charming town of Greenville (southernmost town on Moosehead Lake) and northwest towards Mount Kineo and north towards Big Spencer and Little Spencer Mountains.  This is a wonderful day hike for active people looking for a 3-4 hour hiking trip that is moderately challenging.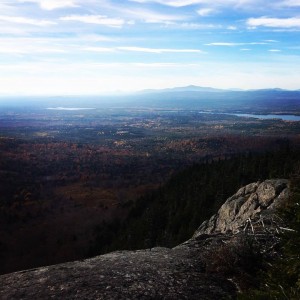 Eagle Rock is a 6.3 mile roundtrip hike that also offers panoramic views of the surrounding mountains, lakes and ponds.  What is unique about this hike is that there are many moderate hills to pass up and over and then a few steep climbs to scenic views, so the hiking day covered seems much longer because of the ups and downs.  It's well worth it!  The views are spectacular and makes for a great day out in the woods.  Pack a lunch/snacks and plenty of water and take in the beauty here.
If your next destination is Moosehead Lake, consider hiking on your own or with a guide, one of these mountain peaks!  If the spirit of competition gets you motivated, consider the Moosehead Pinnacle Pursuit.  The Moosehead Pinnacle Pursuit is a six mountain hiking challenge. The mountains include: Mount Kineo, Number Four Mountain, Whitecap Mountain, Eagle Rock, Big Moose Mountain, and Borestone Mountain.
Happy hiking and don't forget to bring along your best friend (furry or otherwise)!