Maine Wildlife Tours and Safaris make it possible for guests that visit Maine to experience our natural world without having to be in charge of the off road expedition.  Our Registered Maine guides take guests into the natural habitat of Maine's wildlife to experience nature, the woods, streams, ponds, rivers and wildlife that call the Moosehead Lake area home.  How does immersing yourself in nature actually feel?  When it's happening all around you on our Maine wildlife tours it's easy to get caught up in a feeling; that feeling that we are fortunate observers and actually apart of a greater ecological experience.  There is a heart beat of nature right here in the Moosehead Lake area, that we invite you to be apart of when you join Northeast Whitewater on our Maine wildlife tours and safaris.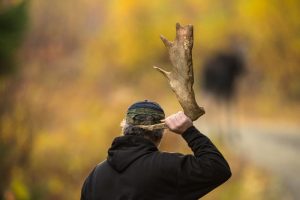 Northeast Whitewater Registered Maine guides are fortunate to spend each day in Maine's Moosehead Lake area observing habitat of moose, deer, loons, eagles, waterfowl and various forms of Maine wildlife in their natural setting; our home is the Maine Woods. Our registered Maine guides recognize that wildlife watching requires strong field skills, knowledge of the forest and wildlife that live here; that is why we take our guests to the best areas to gain the most informative wildlife experience.
Maine is the only eastern state with a sizeable moose population.  Scheduled moose and wildlife tours leaves two times daily, in the morning and in the evening, centered on the habitat of our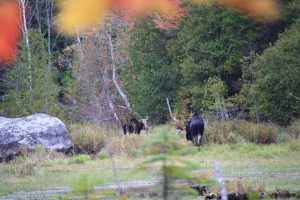 Maine wildlife.  Maine is a destination for birdwatchers during all seasons.  Visit Northeast Whitewater wildlife tours and safaris on a guided wildlife tour for highlights of the best spots to watch feathered friends of all types.  We have numerous lakes, ponds, wetlands, and rivers that are ideal habitat for a variety of water birds to listen to and photograph.
On our wildlife tours and safaris you may see trout jumping, loon and ducks, Beaver, Otter, Whitetail deer, Snowshoe Hare, Bobcat, Black Bear and of course, the infamous Maine Moose – a Maine celebrity here!  The Maine woods is home to our moose, but also Great Horned Owls, Pileated Woodpeckers, Wood Ducks, Hawks, Turkey Vultures, Turtles, Squirrels, Chipmunks, White Tailed Deer, Mink, Fisher, Wild Turkeys, Black-capped Chickadees, Cardinals, many Warblers, Bohemian Waxwings, Bald Eagles, and more!  Bald eagles are actively seen at the waters edge, near rivers and inlets or outlets ideal for fishing and waterfowl.  Maine's inland fisheries and wildlife reports that Maine has the largest population of bald eagle in the Northeast, 500 pairs.   Our guided interpretive Maine wildlife tours and safaris offer you beautiful scenery, Moose and wildlife watching, infused with local history.  
Why choose Northeast Whitewater Maine wildlife tours and safaris?  Our guides have a passion for the wilds of the Maine outdoors and are well rounded naturalists.  We offer small, personalized trips and your choice of group moose watching tours, private Maine wildlife and moose safaris, and bird watching tours.  Visit the Moosehead Lake area, the heart of Maine's moose country, home to the largest lake and the North Maine woods where wildlife thrive in this uniquely awesome natural environment.  For more information about our Maine wildlife tours and safaris, wildlife photography and bird watching call 207-695-0151 and Get Started on your wildlife adventure with us!