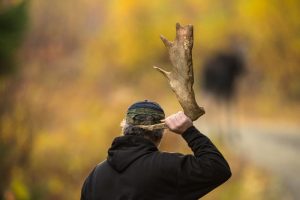 Northeast Whitewater Lodge, Campground and Guide Service is a small, locally owned Maine outfitter known for our Moosehead Outdoor Adventure trips and tours, outdoor instruction programs, Maine yurts and adventure vacation packages.  When you visit Maine's Moosehead Lake area, you are hiring the best guides, with the most training, leading trips and tours to the best areas for your best Moosehead outdoor adventure.
We pride ourselves on being Maine's leader in outdoor instruction, with focus on safety in the Maine woods and on the water.  Our registered Maine guides are prepared for the unexpected, with wilderness first aid training.  Wilderness training is important when hiring the best guides to lead wilderness trips; when in the woods, away from medical care, guests can be confident our Maine guides are the best to handle critical situations.  In addition to our wilderness first aid training, our guides are trained in Swiftwater rescue so that kayak, canoe and raft trips and tours are always safely lead by skillful guides to keep you safe and have an enjoyable experience.  Our Maine guides are also experienced in orienteering, navigation with map and compass, group management skills and trip leading in the Maine woods.  Anyone that is interested learning more about our outdoor instruction and training programs can participate in our courses based on interest or goals to enjoy outdoor adventures safely on your own.
The North Maine woods is made up of 3.5 million acres of forestland and home to the largest lake in Maine – Moosehead Lake – made up of the most wilderness islands in the eastern United States.  So, taking a kayak or boat onto Moosehead Lake without preparing for the excursion or without hiring a guide is daunting.  Be prepared and we can help!  The Moosehead Lake area is a vast, scenic and wild place.  There are numerous mountains for day hikes, half day outings or more rugged overnight treks.  Within the Moosehead Lake area and nearby to Northeast Whitewater are 30 waterfalls.  The Grand Canyon of Maine is within 10 miles of Northeast Whitewater Moosehead Outdoor Adventures and a guest favorite!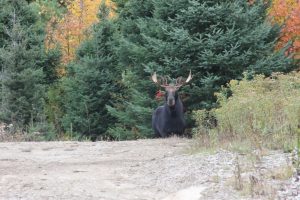 Not quite ready to tackle the North Maine Woods and waters on your own?  Hire Northeast Whitewater guides to lead you on a Moosehead Outdoor Adventure to remote areas for the best and most informative, safely guided trip.  Our #1 activity is our Maine Moose Watching Wildlife Tours and Safaris!  Since the Moosehead Lake area is the best place in Maine to see the Eastern American moose, you have chosen the best Moosehead area guide service for your moose tour and wildlife safari.  Uniquely positioned between two major rivers, Northeast Whitewater rafting trips are offered for fun family river rafting on our Kennebec river rafting trip and scenic and wild Penobscot river rafting for the more adventurous rafting enthusiasts.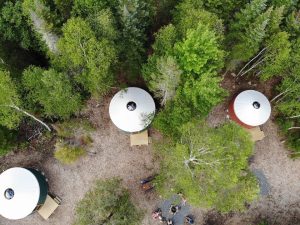 Making our vacation packages affordable, unique and memorable for college students, newlyweds, couples and families of all ages and group trips for scouts, summer camps and adventure gatherings has always been at the heart of what we do here at Northeast Whitewater – provide a safe place in the Maine woods for the best Moosehead Outdoor Adventure you choose!  Stay with us in our yurts; choice of family gathering or friend adventure outing in our bunk bed yurts or a more intimate in the woods experience in our king bed yurts.  You can camp with us in our private wooded campsites or stay on the lake in our partner cabins or motel.  Whatever your pleasure when planning the best Maine adventure, let Northeast Whitewater be your guide to the best Moosehead Outdoor Adventure.  What are you waiting for?  All we need is you!  Contact Northeast Whitewater 207-695-0151 to plan your best Moosehead outdoor adventure and book now.