History of Rafting through the eyes of a 40 year old Girl from Maine.
I turned 40 in February.  I remember when my parents celebrated their 40th birthdays with friends at our farmhouse in Perham (Maine) and at that time thinking…they are SO OLD!  They would get together and tell stories with their friends and exchange funny gifts, of course all in a funeral style black attire setting, laugh and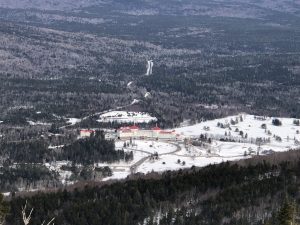 talk about the good times of their past.  My 40th birthday was spent downhill skiing at Mount Washington and enjoying the outdoors and while we celebrated, I couldn't believe how quickly time had passed from when I was a 10 year old little girl inquisitively watching my parents and their 40 years of life to now – 30 years later and being 40 myself.  There are times when history seems so long ago and at other times, that it couldn't have actually been that long ago.
Most of us can relate to wanting to be somebody someday or experience something really cool; a great example of that (to me) is the evolution of our Maine whitewater rafting tradition.  It wasn't that long ago, when a few pioneers set out to create the opportunity for an awesome outdoor river experience, but there were hurdles, obstacles and the unknowns of what would come of it all.  But, they didn't let time pass them by. Instead, took advantage of an opportunity … through the struggles, opportunities and continuing evolution of an industry that truly is only a little over 40 years old.  It's fascinating to me how quickly change can happen, but how long change can feel. Here's my abbreviated version of time and history related to whitewater rafting in Maine. A perspective from a Maine girl that is now as old (or young) as whitewater rafting in Maine.
For most of us to even conceptualize what 200 years means, is literally a mind blown moment.  When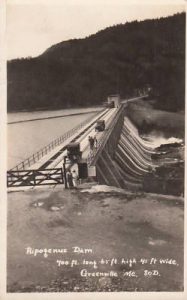 you put it into perspective, my niece literally has no idea what it means to never have had internet.  A world without the interweb … what will we do?  A 200-year tradition is exactly what the logging tradition was; 200 years of woods work.  In 1971, under pressure from environmentalists, the State Legislature passed a law forbidding the log drive after 1976.  I wasn't even born yet! My older brother was born in March of 1976 and a mere 3 years later I came screeching into the lives of my northern Maine family.  1976, marked the year that change that had been talked about, discussed, mulled over for years had finally arrived. 1976, was the year of the last log drive down the Kennebec River from Moosehead Lake to The Forks, then all the way to the paper mill in Winslow and finally to Augusta and Hallowell.  The centuries-old Maine tradition came to an end, the result of Mainers and the rest of America's changing views on water pollution, recreation, paper making and highway transportation.
The Golden Road, a privately owned and mostly unpaved road that runs from Millinocket to the Quebec border, was built as a direct response to the end of the log drives down Maine rivers.  The West Branch of the Penobscot river meanders it's way nearby the Golden road at the edge of Baxter State Park. One of the best, scenic and wild whitewater rivers in the country for class III-V whitewater rafting, kayaking and world class fishing.  It's a truly amazing place for outdoor recreation enthusiasts visiting and living in the state of Maine.
In 1976 when the Kennebec River was ending its role as a log-running river and could now be used recreationally, Wayne Hockmeyer conceptualized a plan in 1975 while hiking into the Kennebec Gorge that this place is a "great, undiscovered fishing spot". It would possess some pristine fishing spots, but no one had ever rafted it, commercially or recreationally. That spring, Kennebec Whitewater Expeditions became the first outfitter to raft the Kennebec River and the first commercial rafting trip in all of Maine. The rafting trip was different from today's Kennebec river rafting trip; these pioneers would put in at the East Outlet of the Kennebec River, its head-waters being Moosehead Lake, paddled and motored across Indian Pond, took off the motor, and carried around Harris Station dam.  That first run on the Kennebec River, not knowing what to expect for whitewater rapids downstream, I can only imagine their excitement and I imagine it being incredibly exhilarating!
My very first time going whitewater rafting in Maine was in 1996.  20 years after the first commercial whitewater rafting trip. My parents, their friends (yes, the same one's they celebrated their 40-year-old birthdays together), and the kids ranging in ages from 12-20 reserved with a Kennebec river rafting outfitter 2 rafts for a weekend getaway.  I'll be honest, I was nervous. Our guide was terrific. Cute, quirky, knowledgeable and fun to spend the day with. That weekend we enjoyed cook outs, campfires and fun being together experiencing something new and exciting for us – whitewater. Fast forward to the fall of 1999 and I was invited by a guide to go rafting on the Dead River.  Again, I was fascinated by the river community. These happy, hardy, outdoor loving people had interesting stories and a passion for the rivers they guided. I truly felt like I was entering an entirely special place with their different perspectives, ages and experiences, and the one commonality – their love for whitewater.
As a Maine girl, born and raised in "the County", I loved spending time at camp, being in the outdoors in nature, enjoying the lake, connecting with people having fun experiences.  I never imagined that first time or even the second time that I went whitewater rafting in Maine, that I would end up owning a rafting company! That guy that invited me on the Dead River in 1999 pivoted my path.  While my raft guide husband worked as a river manager and guide beginning in 1997 and then in 2007 we started our own whitewater rafting company. I went on multiple river trips on the Kennebec and Penobscot rivers; finally took the plunge and become a whitewater rafting guide in 2010 after living and working in both river communities on the Kennebec and Penobscot Rivers.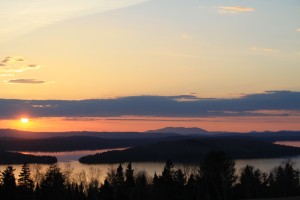 We were pulled back to where whitewater all started, though.  For us, it was about Moosehead Lake. We like to say that we followed in the footsteps of the Pioneer of whitewater rafting in Maine because we set our roots here at Moosehead Lake, where whitewater rafting in Maine began.  Perfectly situated between world class whitewater; the Kennebec and Penobscot Rivers are uniquely different river experiences perfect for families and first time rafters and the more adventurous whitewater rafting enthusiasts.  Rafting guides are trained to lead safe, quality, informative, fun trips – whitewater rafting is an awesome way to meet wonderful outdoors men and women eager to share with you their experiences, stories and love for rivers. Don't wait 20 or even 40 years to get on a whitewater rafting trip and don't go just one time in your life!  Each guide, each river, and each rafting company can offer you an amazing experience and each experience is special in its own, unique way. You will easily create memories, like I have, that will literally change you – don't wait – go whitewater rafting!
Quick overview of the Kennebec River: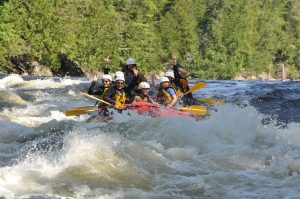 Family Fun
Big Waves
#1 Trip for Everyone!
Ages 8+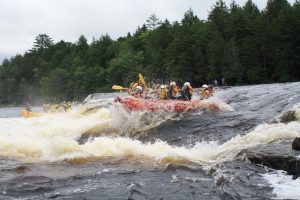 Quick overview of the Penobscot River:
Adventurous
Scenic & Wild
Class V whitewater
Ages 14+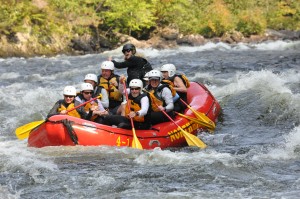 Quick overview of the Dead River:  
Special Releases
High Volume
Ages 12+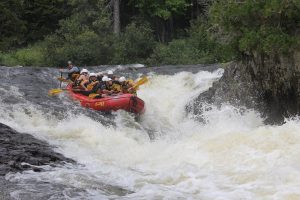 Quick overview of Canada Falls:
Unique to Northeast Whitewater
4 Class V Rapids
Steep, challenging, technical
Ages 14+
About Jessica: When I'm not running my business, I love adventures, travel, music, all things plants, good food, wine and playing with my dogs, our Northeast Whitewater Official Greeters.  As the Northeast Whitewater Adventure Coordinator, I suggest the right activities for you with insider information on where to eat, what to do, and where to stay with our campground and yurts and Moosehead Lake partners.  We welcome you to experience this amazing place with us and learn more about us in our journey as a Maine outdoor business.