When you visit New England, you will find that Maine has countless adventures worthy of recognition.  Dig a little deeper, Northeast Whitewater is at the heart of Maine outdoor adventures with activities for families and fanatics at Moosehead Lake.  Our Moosehead Outdoor Adventures appeal to the most adventurous spirits or those seeking a quieter experience in the Maine woods.  Northeast Whitewater has the best mix of Moosehead outdoor adventures from whitewater rafting in Maine, to seeking out moose on one of our daily moose watching tours, and the Moosehead Lake area is home to over 20 waterfalls within 10 miles of Northeast Whitewater – the best mix of Moosehead Outdoor Adventures is right here – all we need is you!  Choose from our most popular Moosehead outdoor adventures, whether that be a half or full day trip or our popular stay and play packages.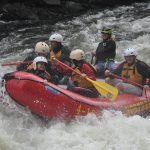 Our #1 whitewater rafting trip at Moosehead Lake is our Kennebec River Whitewater Rafting trip.  The headwaters of the Kennebec River begin at Moosehead Lake.  Northeast Whitewater is the only Maine rafting company located at Moosehead Lake and we take care of our guests by providing transportation to and from the river for the day trip, provide all necessary equipment and enjoy our riverside BBQ half way through the day.  Enjoy big, high volume, whitewater waves and rapids best suited for all ages 8+ and older!  The Kennebec River is Northeast Whitewater's most popular whitewater rafting trip and is the perfect rafting trip for families to enjoy together.   Step it up a notch for our more adventurous Penobscot River whitewater rafting trip in our two rivers in two days package at Moosehead Lake!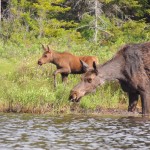 What is most unique about our location at Moosehead Lake besides being the only rafting company here?  We have the highest population of moose in the state!  Guests have the wonderful opportunity to see a moose with us on many of our Moosehead outdoor adventures or you can opt to join us on our daily moose watching tours by land or canoe.  Our Maine moose tours are centered on the moose habitat and run in the morning and evenings daily.  Moose Watching with Northeast Whitewater is a must when you are in search of the best Maine outdoor adventures!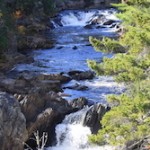 Seek out Maine's most scenic waterfalls less than 10 miles from Northeast Whitewater.  The Moosehead Lake area is known as the Maine Highlands because of the mountains that surround our ponds, lakes, streams and rivers – the elevation and water creates tumbling and cascading waterfalls.  Goodall falls is 2 miles from Northeast Whitewater at the start of Maine's 100 Mile Wilderness section of the Appalachian Trail with parking lot for a stop before or after you arrive at Northeast Whitewater for your Moosehead outdoor adventures.  Or join our Maine guides for our full or half day area waterfall hikes during your Maine vacation.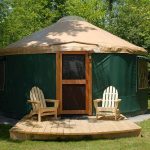 Northeast Whitewater has the perfect mix of outdoor adventure in nature, with the opportunity to take in the tranquility of this magnificent area of the Maine woods at Moosehead Lake.  Get started with your Moosehead Lake Things to Do and outdoor adventures by planning a half day or full day trip or package any of our Moosehead outdoor adventures during your stay in our yurts!
Lastly, make sure to take the time to know who you are going on guided trips with: some of the large Maine rafting companies may advertise here at Moosehead Lake, but they are not located at Moosehead which means you have to drive away from Moosehead Lake to get to them.  Northeast Whitewater is the only Maine rafting company located at Moosehead Lake.  We are your Moosehead Outdoor Adventures rafting company and guide service, with personalized rafting trips, guided moose watching tours, hikes, canoeing, kayaking, paddleboard trips and outdoor education programs for all to enjoy.  We look forward to being a part of your Maine outdoor adventures soon!  FMI 207-695-0151