Swiftwater Rescue Training just got better!  Northeast Whitewater is thrilled to offer our Swiftwater Rescue training with guest instructor, Mike Mather of Mather Rescue. With over 20 years on the water, Mike Mather is one of the more experienced and entertaining rescue professionals in the industry. Having taught technical rescue courses all over the U.S. and in Europe, Mike has an unconventional approach to this topic. Northeast Whitewater will challenge its participants through thoughtful whitewater predicaments that will help participants to stay level headed, all the while learning to become more comfortable in swiftwater scenarios. We use kayaks, rafts, inflatable kayaks, and canoes for our Maine swiftwater rescue pro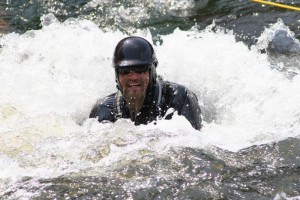 grams. Join us for this very exciting 2-day swiftwater rescue training event on Saturday, September 17 & Sunday, September 18 at Northeast Whitewater 155 Greenville Road Shirley Mills, Maine!

Not sure why you should take a swiftwater rescue training course?  Our American Canoe Association swiftwater rescue course helps participants gain the confidence and necessary skills to deal with stressful on water situations.  Learning to become a whitewater kayaker or looking to work in the outdoor industry?  This class is a no-brainer to add to your resume.
Our swiftwater rescue clinic teaches recognition and avoidance of common river hazards and execution of self-rescue. Rescue vest application, strainers, entrapment, and pins are discussed, and scenarios are practiced. There will be instruction both on and off the water.  Northeast Whitewater ACA-certified Instructors, Registered Maine Guides and Swiftwater Rescue Guru and all around exceptional instructor, Mike Mather, will teach you what you need to know about river rescue & safety.
Get started by booking now or calling 207-695-0151 to find out more!