So you live in New England and you've worked hard all week and now you FINALLY have two days for yourself! Somehow, every seven days we are confronted with the question of, "What do we do now?" Sure you could stick around the house, maybe clean out the garage, maybe binge watch an entire season of something on Netflix, but is that really what you want to do?! I am certain that most of us after spending 4 hours on the couch consider deleting our accounts. Why don't we come up with a different plan for the next 48 hours of freedom!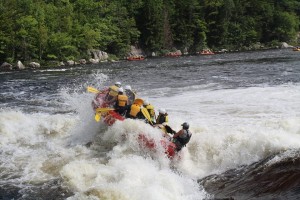 Here at Northeast Whitewater, we have several trips to help make the most of your free time. If you crave adrenaline and love crossing things off of your bucket list, try our Two Rivers in Two Days package! You get to experience two of the wildest rivers in New England (we're talking Class V whitewater) and see firsthand some of the most scenic sights in Maine, all before going back to your desk on Monday. Want to get your blood pumping even more? Ask about using one of our smaller sport rafts!
Or perhaps you are looking for something not quite as fast paced. Our Kennebec River overnight trip is the #1 overnight camping and rafting adventure in New England! Start by paddling one of our inflatable kayaks on the breathtaking waters of Moosehead Lake before being taken to a private wilderness island where your very own Registered Maine Guide will set up camp. That night, you can enjoy a roaring campfire, ice cream (that you make!!!), the huge feast prepared by your guide, and maybe even some of the abundant wild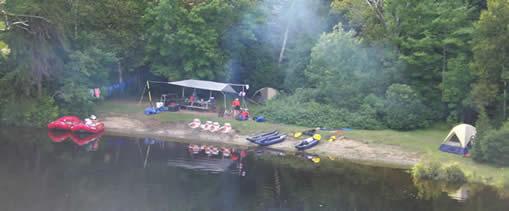 life that fills the Moosehead region! The next day, you take an exciting ride down the Kennebec River! No matter what your style is, we can custom-tailor a trip that is perfect for you.
Contact Northeast Whitewater for your next New England weekend getaway at 207-695-0151 or Book Now!