Northeast Whitewater has been perfecting our family adventure vacations to offer the best family rafting trips that will surely inspire, connect your family through true face to face time, and create memories for a lifetime.  Rediscover the adventurous, cool parent that only comes out when someone else is sweating the details.  Kick back and soak in every smile, laugh and special moment our family rafting trips offer and have the time of your lives with us.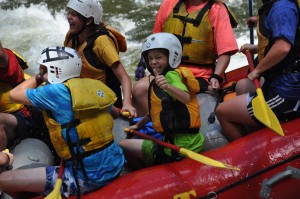 Our #1 family trip at Moosehead Lake is Kennebec river whitewater rafting.  Descend the Kennebec river staircase to enter our whitewater rafts and ride the waves within the magnificent river gorge.  In between the shrills of laughter and excitement, you'll ride up and over whitewater waves while your raft guide navigates each rapid.  A highlight for our families is to jump out of the rafts at Swimmer's rapid, a class II – medium sized waves flowing around you – to swim from top to bottom until hoisted back into the raft for the next wave ride.  A nice stop riverside to break for lunch gets everyone fueled up for the remaining float to swim in the river, sun bathe on the rafts or play around in your own whitewater craft – an inflatable kayak.  Inflatable kayaks are highly recommended for families that have varying ages of children.  This gives the teenagers some freedom to explore nearby to the rafts on their own, which is awesome for their independence and you will win the parent of the year award!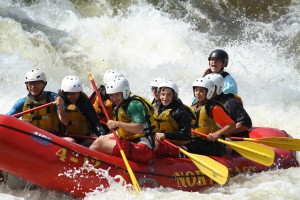 The best rafting trip for adventurous families is the Penobscot river.  A 14 foot waterfall kicks off the whitewater rafting adventure on the Penobscot river.  Swim at a natural rockslide, float, enjoy getting to know your whitewater rafting guide and then tackle more big whitewater waves all before we break for lunch.  Fill up on our grilled BBQ feast and then get ready for the big stuff.  The afternoon rafting day trip on the Penobscot river kicks off with big, gnarly class V whitewater action.  Paddle hard and work off that river lunch in two class V whitewater rapids.  Enjoy spectacular whitewater rapids, amazing scenery, bald eagles fishing and a chance to see a Maine moose.  It's all in a day trip for your adventurous family when you raft on the Penobscot river with Northeast Whitewater.
What are ways to ensure you are picking the best family raft trip for you and your family?  A great place to start is looking at the character of the rafting company by following along on social media sites like Facebook and Instagram.  This will give you a great look into the type  of company you are choosing to make your family rafting trip truly the best.  Northeast Whitewater has been entertaining families to provide the best family rafting trips by ensuring that our "fun directors" – Maine Raft Guides – are held to the highest standard of integrity, values, and provide family fun entertainment throughout the day.  Our rafting guides are rigorously trained in all aspects of river safety, logistics and emergency preparedness to ensure your family has the best rafting trip.  We are conscientious with kids who may be fearful of the water or perhaps…not fearful enough and guarantee that our Maine Raft Guides are not only exceptionally safety oriented, they are fun to spend the day with.
We understand that parents can feel like it's challenging to find trips and vacations that are suitable for the entire family, but Northeast Whitewater can assure you that our whitewater rafting trip options are meant to create the best family vacation.
Our family whitewater rafting trip on the Kennebec river is suitable for children that weigh 50LBS or more.  Northeast Whitewater has state of the art whitewater equipment and our coast guard approved PFD's (Personal Flotation Devices) come in varying sizes, with the smallest legal weight at 50LBS.  Typically, this makes the trip ideal for children 7-8+ years old.
For our adventurous families, the Penobscot river is ideal for children 14+.  For those adventurous families that have joined Northeast Whitewater for Kennebec river rafting and are looking to step it up a notch, by tackling the Penobscot river trip, we will allow children as young as 12 years old with prior approval.
Northeast Whitewater Adventure Coordinators are available 7 days a week to accept calls, emails and messages to help you plan your best family rafting trips!  We also offer moose tours, waterfall hikes, ice cave excursions, wilderness buggy tours, and paddleboard trips to make your next family adventure vacation the best and most memorable family vacation yet!  What are you waiting for?!  207-695-0151.
You don't have to just take our word for it…
"Friendly, professional staff gave us a well planned adventure. It was our youngest son's (age 9) first time rafting and he is hooked– will definitely come back again!" – SHFandfamily
"Best guides in the area. Safe, fun and most enjoyable vacation yet. Kennebec is great for family and Penobscot rafting is great for adventurous. Family feel at Northeast Whitewater." – mm81397
Save
Save
Save