Crowd Free Vacations
There are 1.3 million people in the entire state of Maine and you can fit all of the New England states into our big state.  No kidding, it's a big state with very few people.  The population of Boston Massachusetts [we love our teams Red Sox, Patriots and Bruins] is half of our entire state's population!  New York City has 8.6 million people bustling around the concrete jungle, so taking a break from the crowds is vital to one's well being.  Start considering crowd free vacations for your best Maine adventure getaway!
Focus on the Great Outdoors
The great outdoors, its rivers, lakes, oceans, mountains and nature in general allow people to recharge, relax and focus on what's important in life.
Our #1 outdoor activity is moose watching; a 3.5-4 hour nature tour with our dedicated Registered Maine guides.  Moose safaris are offered daily and centered on the habitat of moose and other wildlife, when they are most active.  Guides lead guests into the best areas to optimize moose and wildlife sightings either by land or canoe.  Our moose safaris are a great crowd free vacation option, since we limit the number of people on these safaris.  Whether you are a private party of 1 or have a family of 10, this is a truly wild crowd free experience.
Rivers are our natural ebb and flow.  There's a rhythm in whitewater that all of us should feel and be a part of.  Just the sound of moving water is calming and therapeutic, which helps us all unwind, relax and feel happy.  When I suggest that people try whitewater rafting, at first some feel apprehensive, but that is short lived.  It's natural to feel that way, if you've never experienced an activity like it before.  But, whitewater rafting is a healthy, active outdoor adventure that everyone must do!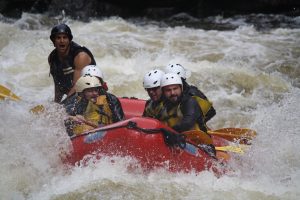 A whitewater rafting day here at Northeast Whitewater is always small and personalized.  We don't host big crowds orlarge groups, instead plan with families, small outings and private groups for the best whitewater rafting experience.  Our rafts are helmed by the best Maine raft guides offering a fun, informative and safe river trip.  Our rafting trips have 6-8 people in the whitewater rafts.  This helps to promote a great opportunity to connect with each other, all the while enjoying nature's beauty.
If you're planning a "staycation", check out our recent post about getaways that are close to home here.  But, when you just need a getaway from the day to day that is the perfect crowd free vacation, we're here for you.  Northeast Whitewater Lodge, Campground and Guide Service has 4 yurt sites and 4 tent camping sites!  Set in a quiet wooded area, we have a private, crowd free campground.  Our Maine yurts are cute, cozy, comfy and offer the perfect nature ambiance.  We have 2 king bed yurts, perfect for a cozy, couples getaway and our 2 bunk bed yurts are the best for connecting with your family in nature.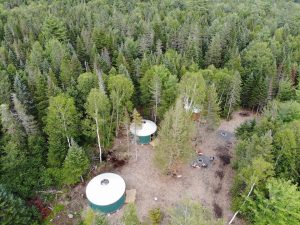 In light of our current reality in 2020, we encourage you to stay physically distant, but to remain connected socially.  Our current reality isn't permanent, but we do need to look out for each other.  In a day in age where the world is at our finger tips, stay social.  The faster we disconnect physically, the sooner we can reconnect with each other to do the things we love most together.  We're all in this together and Northeast Whitewater is here for you.  Today, tomorrow and for weeks to come, we have been and continue to be the best crowd free vacation option.  So, keep loving moose watching, planning for your next getaway and what the heck – we only live once, so do something adventurous – like whitewater rafting!  We'll be right here for you, when you are ready to plan your crowd free vacation.  Already scheduled?  Reference our COVID-19 policy.