Northeast Whitewater guides fishing weekend was a fabulous fishing success, but also a wonderful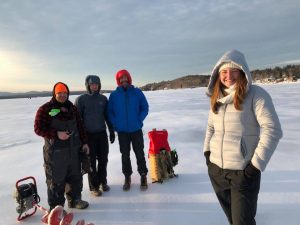 winter weekend for Northeast Whitewater guides to get together here at Moosehead Lake to catch up, catch fish and enjoy the snow, ice and lots of food together.  All good times begin with food and we all enjoy camp stove cooking -a daily occurrence on our maine white water rafting trips– so we traded the whitewater for ice fishing and cooked up some great home-cooked food for a weekend on the ice.
Northeast Whitewater guides registered for the 11th annual ice fishing derby.  Our registrations makes it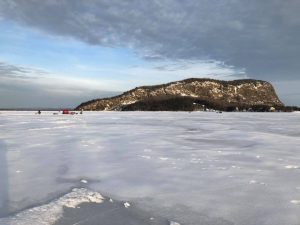 possible to win prizes, but more importantly the ice fishing derby is the largest fundraiser for the Natural Resource Education Center (NREC) and all the profits go toward programs like the Maine Woods Explorer program and Fisheries Internships.  It's a wonderful winter weekend to get together and enjoy Moosehead Lake, with bonus that all the proceeds go to valuable programs in our community.  Can't you picture yourself right here?  Mount Kineo is our favorite ice fishing spot.
The Natural Resource Education Center (NREC) in conjunction with Maine Inland Fisheries & Wildlife & Rick Craven host the Moosehead Lake Togue Ice Fishing Derby each year.  Ricky Craven is an ESPN broadcaster.  Prior to his ESPN duties, he was a NASCAR driver who won in four different series—the K&N Pro Series, and the three national series. Ricky is from Maine, lives in North Carolina and also has a home here at Moosehead Lake.  The Moosehead Lake ice fishing derby is typically the last weekend of January each year, so plan ahead.
Ice fishing is a fun winter activity.  Plan to bundle up, bring your friends along, cook up some good food and enjoy!  We all had a great time together and of course was a bonus that the fish were biting.