The best whitewater rafting in Maine is found in the Moosehead Lake area at the heart of Maine's whitewater rivers.  Maine is known for some of the best whitewater in the Northeast, but what river has the best whitewater rafting depends on a few considerations.  It's important to consider the miles of whitewater, classification of the whitewater on the river, the natural beauty each river experience invokes and the level of difficulty of the river.  How to choose the best whitewater rafting trip in Maine?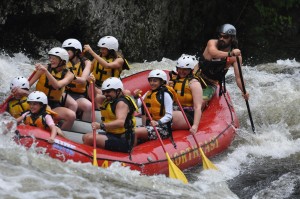 If you are looking for a whitewater rafting river experience that is ideal for all ages, look no further than Northeast Whitewater Kennebec River whitewater rafting.  The Kennebec river is the best Maine river trip for all ages and ability levels.  Get started in the upper Kennebec river gorge rolling whitewater waves, riding up and over Big Mama and her Three Sisters, then rafting through Magic Falls Rapid and getting a chance to jump in and swim through Swimmers Rapid all before our hot, grilled riverside BBQ lunch!  Feast on our sizzling riverside BBQ, then enjoy the Kennebec river float after lunch to sunbathe on the rafts or float in the moving river current.  Your sure to be a hit at home when you choose our Kennebec river whitewater rafting trip for your family!
Looking for a more adventurous whitewater rafting trip experience for you and your friends?  Then you want to choose the Penobscot River trip, since its the best high adventure whitewater rafting trip in Maine.  Northeast Whitewater experienced Maine raft guides navigate our state of the art whitewater rafts through the technical rapids know as the Penobscot river gorge exterminator hole and Cribworks rapid.  If scenic and wild whitewater adventure is right for you, than Penobscot river whitewater rafting is the most thrilling whitewater rafting experience offered at Northeast Whitewater in Maine.
For some, a day on the river isn't enough, so Northeast Whitewater offers guided overnight whitewater rafting and camping trips to whitewater river enthusiasts seeking 2 or more days of whitewater rafting adventure.  Our East outlet Kennebec river overnight rafting trip is our best whitewater rafting overnight trip for everyone to enjoy.  Day one kicks off with a fun whitewater introduction in our inflatable kayaks, staying at our wilderness island overnight camping site and whitewater rafting on our Kennebec river trip day 2.  Step it up to join our Penobscot river overnight whitewater rafting, great for bachelor parties and high adventure whitewater enthusiasts.  Northeast Whitewater is the only Maine rafting company to uniquely offer our North Maine Woods overnight rafting on Canada Falls and the Seboomook section of the Penobscot river annually on Labor day weekend.  This is a 2 day whitewater playground river experience suitable for adventurous youth, families and friends seeking total whitewater immersion both rafting, inflatable kayaking and swimming in the whitewater rivers.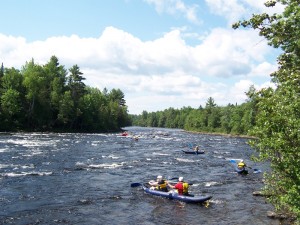 Ages related to river difficulty: Minimum age to raft on Maine's Kennebec river with Northeast whitewater is 8 years old to tackle the class III-IV whitewater on this tumbling, rolling whitewater river trip.  The Kennebec river is our #1 family activity at Moosehead Lake.  A sense of adventure is needed to tackle the class V Penobscot river trip and minimum age to challenge the rapids on our Northeast Whitewater Penobscot river trip is 14 years old.  If you are considering our Canada Falls & Seboomook overnight whitewater rafting and camping trip this Labor day weekend for 2 days of whitewater adventure, the minimum age to sign on for this whitewater playground adventure is 12 years old.
When is the best time to go whitewater rafting in Maine?  Fortunately, Maine has dam-controlled whitewater rivers that allow for a recreational flow daily.  Spring run-off, due to snow melt definitely can make the whitewater river experience more intense when challenging the rivers in late May and early June, but if warm water is more suitable to you, than July – September on Maine's rivers is ideal for everyone and still allows for an exceptional whitewater experience due to our daily dam releases.
Northeast Whitewater can help you choose the best Maine whitewater rafting trip and you can get started by giving us a call at 207-695-0151 or send us an information request, so we can provide you all the trip information that you are searching for.  We are excited to have you visit Maine's Moosehead Lake area to enjoy our whitewater rafting rivers and hope to see you on the river soon!