Looking for Things to Do in Greenville Maine?
About Greenville Maine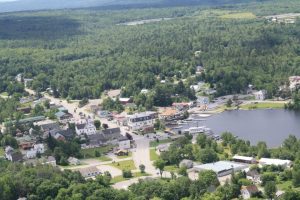 Greenville, Maine is the largest town on the southern tip of Moosehead Lake.  When planning a vacation to Maine, think Moosehead Lake for the best outdoor adventures and all things to do in Greenville Maine!  From boating, fishing, some of the best hiking in Maine, world class whitewater river access, quaint town for shopping local Maine made products and of course … MOOSE!  Greenville, at Moosehead Lake is the ideal Maine town for outdoor adventurers, travelers seeking an out of the way destination with everything needed to maximize the most out of a Maine "things to do" kind of getaway.
Check out our Top Picks for Outdoor Adventures in Greenville!
Top picks for things to do in Greenville Maine of course start with Maine's largest lake, Moosehead Lake!  Moosehead Lake is the largest lake in Maine and the largest mountain lake in the Eastern U.S.  Moosehead Lake is the headwaters (source) of the Kennebec River, West Branch of the Penobscot River, the Piscataquis, and the Pleasant River. There are over 80 islands scattered throughout Moosehead, Sugar Island being the largest and Deer Island to the west. Visitors are drawn to Moosehead Lake for a variety of fishing.  Visitors fish for brook trout, rainbow, brown and lake trout (locally known as togue), salmon, smallmouth and largemouth bass.  Bring your boat or rent from a local dealer for a great day on the water!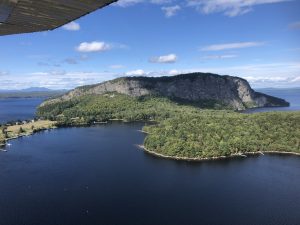 Mt. Kineo State Park is a highlight for guests looking for things to do at Moosehead Lake.  Just northwest of Greenville is the lake town, Rockwood.  A water taxi service departs to Mt. Kineo for hiking, golfing and enjoying the beaches of Mt. Kineo State Park. At elevation around 1800 feet, Mount Kineo dominates Moosehead Lake with a dramatic cliff face rising 700 feet above the lake surface.  Plan to depart Greenville in the morning to spend the day exploring Mt. Kineo!  Or, consider a float plan tour of Mt. Kineo with Currier's or Jack's Air service.
For guests seeking a history tour and relaxing day on the lake, the Katahdin Steamship is the perfect thing to do in Greenville Maine for you!  Tickets are not required in advance and the steamship departs around noon for a 3 hour Moosehead Lake cruise.  Learn from the historian about the areas logging history, Abenaki settlers and the boat you are voyaging on, while enjoying a cocktail or snack from the main sun deck.  Even on rainy days, it's a wonderful thing to do in Greenville Maine, since there is plenty of space under cover to enjoy the beautiful lake views!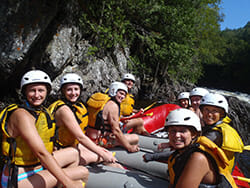 Greenville is the "hub" at Moosehead Lake with charming stores, restaurants and nearby to everything outdoors.  For our outdoor spirited visitors, look no further than Northeast Whitewater for things to do.  Eager to get wet on hot sunny summer days?  Northeast Whitewater offers daily whitewater rafting trips on the Kennebec and Penobscot Rivers.  Even on rainy days, rafting is the perfect adventure.  You are guaranteed to get wet anyway!  From mild trips ideal for families and first timers, to more challenging whitewater rapids.  Rafting trips launch every morning, with transportation, delicious and hot riverside BBQ and all the necessary equipment is provided.
The signature thing to do in Greenville Maine is clearly all about moose.  The area is MOOSE-head for a reason!  Guests from near and far are always seeking out that up close and personal encounter with a moose.  Who doesn't want to share with their friends a photo of a 900 pound, all legs, big ears moose face?!  Even though, Greenville's claim to fame is that moose outnumber people 3 to 1, it's not that easy finding a moose on your own.  Visitors are encouraged to hire guides to take them out to the right spots for moose sightings.  Moose tours are offered daily in the morning and evening.  Your choice of land or canoe.  Also, private dedicated guides are always available with advance reservations.
Hiking in the Greenville Maine and Moosehead area is a highlight for many visitors.  With numerous waterfalls within 10 miles of our location and hiking trails from easy to moderate, there is a hike for everyone!  Choose to spend a day on the trails or as short as 2-3 miles on hiking trails – no matter the hiking adventure, there are scenic views, mountain ponds, and perfect tucked away picnic spots for you and your family to enjoy.  The well known walked path, the Appalachian trail intersects our community.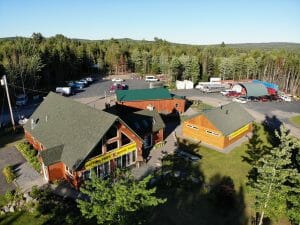 When you live in such an amazing outdoor destination, navigating the woods roads, trails, and finding all the right things to do may seem pretty easy.  We recommend hiring guides to provide information and point you in the right direction for other cool things to do.  Guides are trained to provide unique experiences in nature, but also point out the best places to grab a craft brew, and of course see a moose!  Let Northeast Whitewater be your guide.  We offer daily concierge service to guests and visitors looking for things to do in Greenville Maine and Moosehead Lake.  Located on the main route leading to town, we are your Moosehead Outdoor Adventures for all things to do and information.  See you soon!